Trending:
Occupants are terrorizing people in Zaporizhzhia using Soviet methods of the 30s, - Fedorov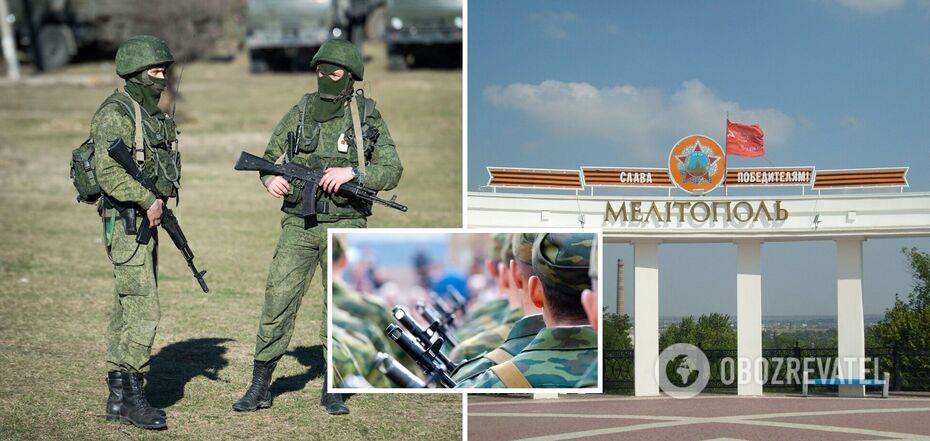 Russians terrorize people in occupied Zaporizhzhia
In the temporarily occupied territories of Zaporizhzhia region, Russian invaders are terrorizing people using Soviet methods of the 1930s. They are carrying out the so-called nationalization of housing at an "industrial" pace, taking away both the apartments of people who have left the occupation and the property of those who have remained.
Occupants are also being moved in with people, transport and money are being taken away from Ukrainians, and "nationalized" land plots are going to be distributed to Russian invaders. This was stated by the mayor of the temporarily occupied Melitopol, Ivan Fedorov.
According to him, during the occupation, Russian occupiers and Kremlin-appointed gauleiters confiscated more than five thousand objects in Melitopol and Melitopol district alone: houses, apartments, businesses, warehouses, etc. This total looting took place in several waves.
"It all started back in May 2022, when the enemy began to simply occupy the apartments they needed to accommodate their personnel. After that, they began issuing fake documents allegedly about the "nationalization" of these apartments, houses, as well as enterprises, businesses, warehouses, and various organizations. Then they began to make a total round of all the entrances, apartments and houses. During the rounds, they tried to find out whether the residents who used to live in these apartments had left the temporarily occupied territories or were on the occupied territories. If they received information about leaving, in a few weeks an illegal order from Gauleiter Balytsky appeared stating that this apartment was also "nationalized" and was being transferred to someone unknown," said Fedorov, emphasizing that all these "orders" are absolutely illegitimate.
Over the past month, the invaders have once again been conducting massive rounds of apartment buildings and private homes in order to "donationalize" what they could not take away earlier. In the "best" traditions of the early USSR, they also began to "move in" with the Russian occupiers.
"If they need to accommodate their racist military or various kinds of 'touring soldiers' in a house, they can move in with the existing residents. This is mostly observed on the front line, in such settlements as Tokmak and Molochansk, where they use our civilians as human shields. Or they can tell people to leave their homes, where they have lived all their lives, within two hours because they are needed for some military needs. Even if people live in the apartment or house, this is definitely not an obstacle for the enemy to take away their houses or apartments and say that they need it for the army. We have seen such examples many times, unfortunately," noted Fedorov.
According to him, the lion's share of "nationalized" housing is made up of houses and apartments of people who managed to escape the occupation. However, no one in the occupied territories is immune from such a fate. Moreover, just like in the early USSR, Sharikov's modern descendants have taken on the "authority" to determine whether a person owns too many square meters.
"The priority is to take away those who have left. But even if people are living and have absolutely all the documents, they can still be evicted, because it is in this area that the military needs to be deployed. They also conduct a re-account, and, for example, if one person lives there and has a three-room apartment, the enemy thinks it's too much. Therefore, they move him to a dormitory, and move some of their gauleiter to the three-room apartment," said Fedorov.
According to the mayor of Melitopol, the invaders do not need the show of checking housing documents to make sure that they cannot confiscate it. This is how the occupiers collect data for their registers and try to establish the number of people who remain under occupation.
"But this is definitely not a guarantee that the apartment, house or any property will remain in the ownership of the resident who is forced to stay in the temporary occupation. We must clearly understand one simple thing: no rule, no law works on the territory temporarily occupied by the enemy. They can change their decision at any moment," emphasized Fedorov.
In addition to confiscating houses and apartments, the occupiers are literally robbing people at gunpoint, taking their money and cars.
They are also "nationalizing" land plots belonging to Ukrainians. According to Fedorov, Moscow is going to distribute them to the "heroes of the SVO" as a reward for their participation in the war.
"The relevant bill has been submitted to the Kremlin State Duma," he explained.
Earlier, it became known that the occupiers would use men in Kherson and Zaporizhzhia as human shields for their troops . Last year, the same thing happened in Certain districts of Donetsk and Luhansk regions.
According to Pavlo Lysyansky, director of the Institute for Strategic Studies and Security, a human rights activist, it is in these regions that the main impact of Russian mobilization will be felt. The men who will be recruited into the occupation army will face the fate of "mobilizeds" from Donetsk and Luhansk regions, who last year "were sent to minefields, to be slaughtered as human shields to save the lives of the military from the occupation units of the armed forces of the Russian Federation."
Only verified information on our Telegram channel Obozrevatel and Viber channels. Do not fall for fakes!