Trending:
"Born with an assault rifle": 20-year-old Ukrainian champion found the occupiers from Bucha, but hit a mine while leaving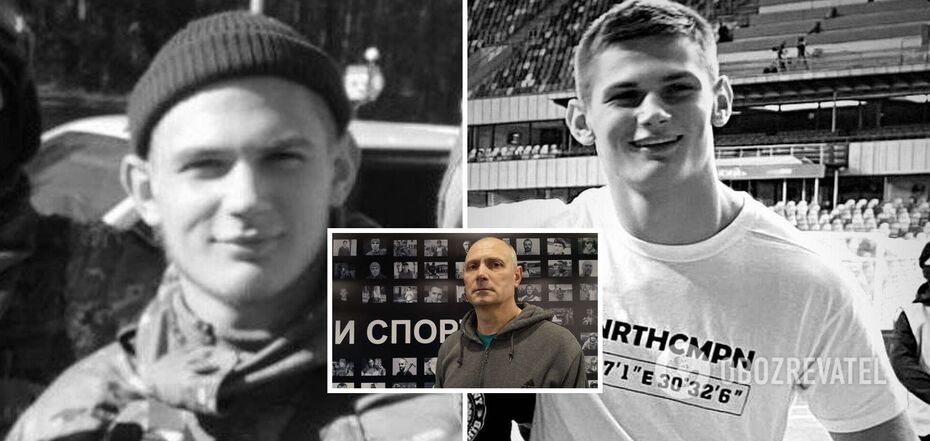 Yevhen Slyusarenko served in the Special Operations Forces
Yevhen Slyusarenko, 20, had the potential to become a world champion in pankration or make a breakthrough in the computer industry. According to his father, he had a very bright head. However, on the first day of the full-scale Russian invasion, he voluntarily went to defend Ukraine and returned home in a closed coffin. On April 22, the athlete died in the Kharkiv region.
In a conversation with OBOZREVATEL, the father of the Ukrainian pankration champion, Yevhen Slyusarenko Sr, recalled how the young defender tried many sections as a child, then managed to combine martial arts, university studies and work at a computer company. And then it turned out that he had a real talent for military affairs.
"He studied in Kyiv at the 145th Lyceum of Natural Sciences (where he majored in physics, mathematics, computer science and chemistry - Ed.) All his life he was very sporty, and all his life we tried to find something for him to do, tried different sections. Football, then there were ballroom dancing, swimming, and there was a period when he did taekwondo. But maybe he was too young then and didn't stop at anything," said his father.
But the craving for martial arts still won out. Yevhen successfully trained in pankration, and in 2019, he won the Ukrainian Championship in grappling.
"When he went to the lyceum, he joined a club and started practising martial arts. Of course, we encouraged him. At first, we paid for training, for the gym, for the coach. Zhenia quickly started to get good at it. The coaches saw it. He began to show results in competitions and stopped paying for training," recalled Slyusarenko Sr.
"His coach, Oleksandr Hryshko, said later that with such a character, he should have become a world champion," the father added.
In addition to martial arts, Yevhen was very fond of football and was a devoted fan of Dynamo Kyiv.
"Yes. I don't know how he managed to do everything. But he did. He was like the wind. His wife's brother has his own computer company, and he found time to work part-time there. He also worked with crypto. In general, he did everything," said the athlete's father.
"He had a very bright head, but he didn't have the perseverance that you need to approach science. I don't know how he managed to study, because I didn't see him doing much. But he passed all his exams. He also passed his exams at the university, although I didn't see him preparing for them. We kept telling him that he needed to study. And you see how it all turned out..." - Yevhen said with tears in his eyes.
Slyusarenko Sr. admitted that he did not even know which sporting victory his son was most proud of because he was always busy with something.
"It was almost impossible to sit and talk with him like that. He was always running somewhere, constantly talking to someone on the phone. About three years ago, he became the champion of Ukraine in punctuation. After that, he had a lot of certificates and medals. He spent a lot of time doing this. But what he valued most about his achievements - I didn't even have time to ask him," the father said sadly.
"But the coach said that he had defeated a world champion at some competition. I won't say what kind of tournament it was. But the fact that he could have become a world champion himself is for sure. His potential was very high," said Yevhen.
At the time of the full-scale invasion, 21-year-old Slyusarenko was in his third year at Grinchenko University, studying computer science. But he dropped everything and took part in the defence of Kyiv as part of a volunteer battalion. And then he continued to defend Ukraine from the occupiers as part of a special unit of the Armed Forces of Ukraine. It was impossible to dissuade him from serving.
"It was in vain. On the morning of February 24, he voluntarily went to war. And it was impossible to stop him. He was near Bucha. And his unit was located in the shopping centre where he arrived. It just so happened that Zhenia was absent at the time, and one of his guys was injured," the father said.
"And then, I don't know how, he ended up in the Special Operations Forces. He had no special skills other than martial arts before the full-scale war. However, he studied at our cadet lyceum for two years. And for the last four years, he studied at a scientific lyceum. But his commanders said that he was born with an assault rifle. And he went to Kharkiv as part of an SSO unit. And he died near Vilkhivka..." - Slyusarenko says with difficulty.
On April 22, 2022, the car with Yevhen and his three comrades-in-arms exploded on an anti-tank mine in the Kharkiv region. On that day, the fighters of the "Rage" unit found the location of the Russian group involved in the atrocities in Bucha and destroyed a large part of the enemy. The remnants of the group called for help from tanks, which began mortar fire.
Our soldiers were ordered to retreat. Yevhen stayed behind to blow up an enemy tank. He was among the last to leave the battlefield, and those few seconds of delay proved fatal. Leaving the site of the combat mission, the group came under mortar fire, which was controlled by a drone. While dodging the fire, the athlete's car hit an anti-tank mine. No one survived.
"We were informed about the death the next day. They brought him home, but in a closed coffin. We did not see it. It is very scary. It's such a pain..." - the father admitted.
During our conversation, even a year after the tragedy, it was very difficult for Slyusarenko Sr. to talk about Yevhen. He could hardly hold back his tears. "I have four sons. And he is the third," said the hero's father. Yevhen was named after his father: "It was his wife's wish."
Earlier, OBOZREVATEL reported that a tank shot dead a father of three and a martial arts master in the Luhansk region.
Only verified information is available in our Obozrevatel Telegram channel and Viber. Do not fall for fakes!