Trending:
Pope apologises to Ukrainian youth for not being able to influence the situation in Ukraine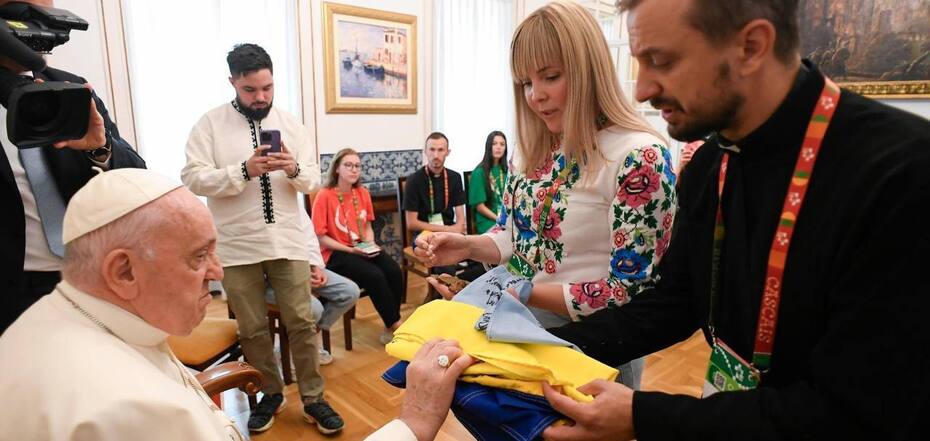 Pope Francis apologises to Ukrainian youth. Source: ugcc.ua
On the morning of Wednesday, 3 August, Ukrainian youth from the UGCC and RCC had a personal audience with the Holy Father of the Church in Lisbon. During the meeting, the young people spoke about how Russia is destroying lives in Ukraine, and Pope Francis apologised for his inability to influence the situation.
The results of the meeting of Ukrainian youth from the UGCC and the RCC with the Holy Father Francis at the Apostolic Nunciature in Lisbon were reported by the press service of the Ukrainian Greek Catholic Church.
During a meeting with Ukrainian youth, Pope Francis assured them that he was praying for Ukraine and asked them to forgive him for "not being able to do more" and stressed that "evil is very cruel".
"This meeting was very emotional. The Pope listened carefully and looked at them, wiped away the tears of the Ukrainian youth who came to tell him the truth about the war, about Russia's destruction of life in Ukraine. Pope Francis spoke very briefly, assuring them of his prayers for Ukraine. The Holy Father also apologised to the youth for his inability to do more, stressing that evil is very cruel," said Roman Demush, deputy head of the Patriarchal Commission on Youth of the UGCC.
According to him, 500 young people took part in the meeting with Francis. The young people presented the Pope with symbolic gifts - a sheaf of wheat, a loaf of bread, and Zarvanytsia water, saying that today in Ukraine there is a danger of dying not only from Russian missiles and bullets, but also from hunger.
It is also reported that the delegation included a "priestly family". In particular, Iryna Bielska handed over to the Pope the fragments of rockets that fell on the churchyard in Beryslav, Kherson region, and said that their church had become a shelter for several thousand people. She also noted how Ukrainian families are suffering because they cannot be together because of the war.