Trending:
What you shouldn't wipe your smartphone screen with: products that do nothing but harm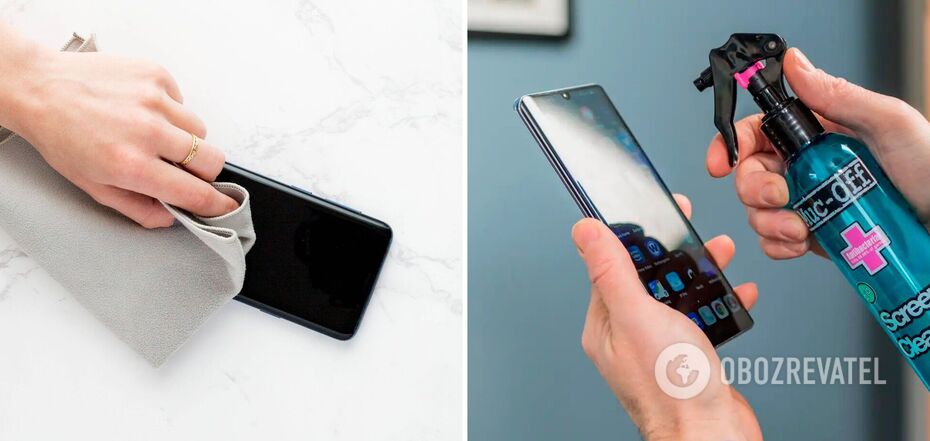 Your smartphone screen is very delicate and needs proper care.
The screen is the part of the smartphone that the user touches all the time. Accordingly, it gets dirty very quickly, so it needs to be cleaned regularly. The pandemic has taught us how to do this with disinfectants. But can everything that can kill germs be used on a touchscreen?
It turns out that some users don't know how to properly wipe and disinfect their smartphones. OBOZREVATEL has compiled a list of the most common mistakes. Some of these products can be a real danger to delicate electronics.
Rough fabric
The easiest way to wipe fingerprints off your screen is to wipe it on your clothes. But while a cotton T-shirt is still somewhat suitable for this task, jeans or any other rough fabric can even damage the display.
Household chemicals
Even highly diluted cleaning products, such as dishwashing liquid, can damage the protective oleophobic layer of the screen. In this case, dirt will collect on it faster. Powdered cleaners are particularly dangerous because they can also scratch the screen.
Household disinfectants
Liquids such as hydrogen peroxide or chlorhexidine can also damage the screen protector. Even an alcohol-based antiseptic is not gentle enough for a part of your smartphone like the display. In addition, they can leave noticeable streaks on it.
Toothpaste
There is a life hack on the Internet that claims toothpaste can remove scratches from the screen. This is an absolute lie. Moreover, the fine abrasive in its composition is quite capable of making new ones. And the protective layer of the screen will not resist it either.
Paper
Even soft napkins, towels, or toilet paper are still too hard to take care of your phone's screen. Their folds can cause scratches. They also flake and can leave small paper particles on the screen.
How to wipe your smartphone screen properly
Caring for this part of your phone is similar to caring for your glasses - a lint-free cloth, such as microfibre, is best for wiping. You can disinfect the screen with special wipes. If you need to get rid of dirt quickly and don't have any special products at hand, a piece of soft cloth lightly soaked in plain water will do. As for liquid products, you can use special sprays for cleaning screens.
Earlier, OBOZREVATEL told how to clean your smartphone speaker without harm.
Subscribe to OBOZREVATEL's Telegram and Viber channels to keep up with the latest news.