Trending:
What to plant near roses to make the buds lush and bright: the best and worst neighbours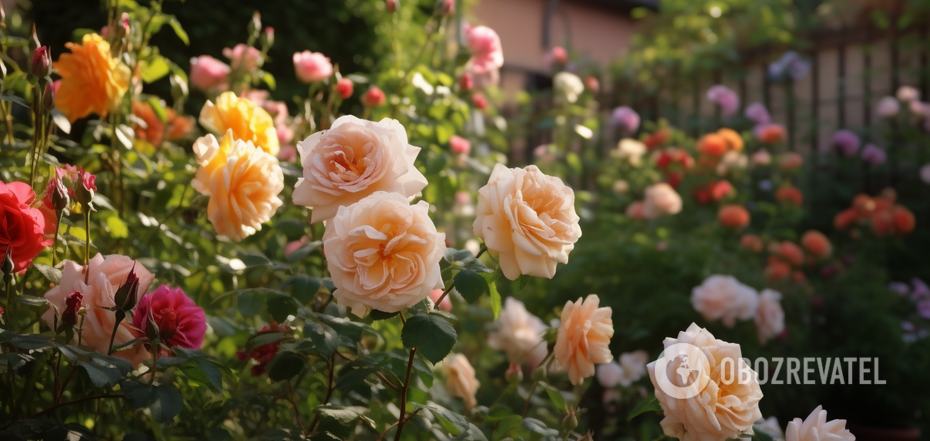 Where is the best place to plant roses
Growing lush and vibrant roses is easy, the main thing is to know the basic rules of fertilisation and maintain the optimum level of moisture in the soil. However, many people forget about an equally important aspect - the right neighbourhood.
Some plants can inhibit the growth of roses, and in this case, neither high-quality fertilisers, nor pest control, nor sufficient watering will help. Read OBOZREVATEL's article on what is best to plant near roses for lush flowering.
What can be planted next to roses
Experts say that fragrant herbs are the best neighbours for roses. They will repel pests and protect the leaves from caterpillars.
Thyme can be planted next to roses - it can act as mulch for the bushes. This melliferous healing plant will not harm the rose at all.
Roses and Yarrow will harmonise perfectly with each other if you choose the right colour scheme.
Lavender will drive away harmful insects and fill the garden with a fresh scent.
Mint is a neutral neighbour, but it is better to choose a varietal one, because wild mint will grow too much and can overwhelm the garden.
"Good" neighbours for roses are:
clematis;
daylilies;
peonies;
garden geraniums;
delphinium.
"Bad" neighbours
You should not plant a rose in a flower bed with Hydrangeas and Rhododendrons - these plants like acidic soil, while roses need neutral soil.
Tulips and Dahlias will also be bad neighbours - their bulbs need to be dug up every year, and there is a risk of damaging the roots of roses through negligence. Dahlias, by the way, begin to bloom at the same time as roses and are prone to powdery mildew. For the same reason, you should not plant roses next to phlox.
Loosestrife or Lysimachia is an aggressor plant that can damage a rose by taking over all the free space in the garden with its powerful and strong root system.
At first glance, the cute and harmless Japanese anemone will inhibit the growth and development of the rose. Due to its active growth, it is also not recommended to plant Convallaria of the valley next to the rose.
Earlier, OBOZREVATEL told how to fertilise roses in May and early summer.
Subscribe to OBOZREVATEL's Telegram and Viber channels to keep up with the latest news.