Trending:
What to feed cucumbers in hot weather: won't wilt and turn yellow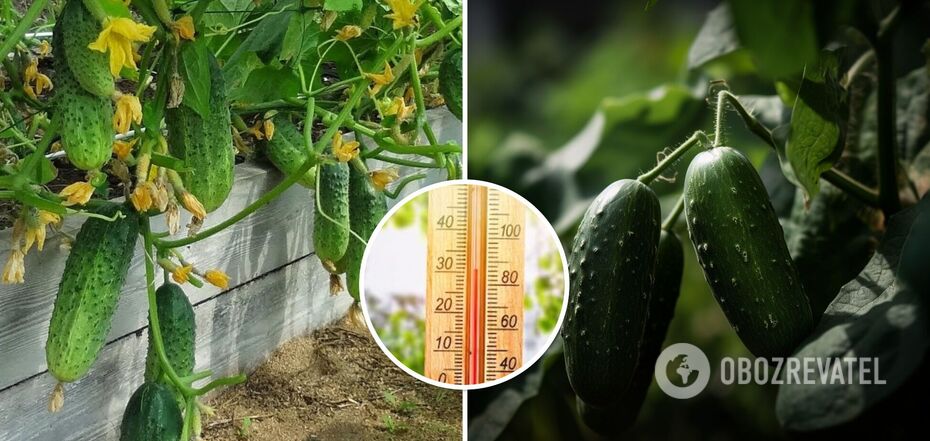 How to protect cucumbers from summer heat
Cucumbers are an irreplaceable source of vitamins and minerals. They contain proteins and fiber, calcium, carotene, magnesium, iron, folic acid, vitamins B, C, A, PP, E, H, are useful for normalizing heart function, improving gallbladder function and are used as an important dietary component.
Cucumbers grown in your own bed are much healthier than greenhouse or store-bought. But there is a problem - the summer heat can easily destroy the crop, the fruit will wilt and turn yellow. How to feed cucumbers in summer - read in the material OBOZREVATEL.
Cucumbers like warm weather and moderate humidity. Experts discovered that the ideal temperature for this crop is +25 +28 ° C during the day and not below +16 ° C at night. If the summer temperature reaches more than +32 ° C, cucumbers will begin to suffer. Some varieties stop blooming and forming fruit, while others may stop growing, turn yellow, become frail, and eventually wilt.
Experienced gardeners choose in advance partially shaded places on the beds for cucumbers. You can even carefully cover the bed with spunbond - this material will effectively shield the plants from the sun's rays.
However, the most attention should be paid to the watering regime. In hot weather, cucumbers should be watered frequently and abundantly. It is better to choose the morning or evening hours for watering. It is important not to water too much to avoid fungal infections.
If the temperature exceeds +30 °C, cucumbers should be watered daily. Mulching with humus will be useful - it will help to prevent the formation of crusts on the surface of the soil, provide nutrition to the root system and reduce the drying time of the soil. Mulching is recommended on a weekly basis.
Potassium fertilizers will be helpful. Potassium will help the plants adapt more easily to heat stress. To prepare the fertilizer is very simple. Pour 10 liters of water into a container, add 1 tablespoon of potassium sulfate and stir until completely dissolved. After that, water the cucumbers under the root.
For spraying the leaves, an infusion of tomato haulm and zircon is ideal. Put the tomato haulm in the bottom of a bucket and pour water over it. After a seven-day soaking, dilute 1 liter of infusion in 10 liters of water and add 1 ampoule of Zircon. Spraying is recommended in the morning or evening.
Earlier OBOZREVATEL told you what you can not plant in cucumbers.
Subscribe to channels OBOZREVATEL in Telegram and Viber to keep up with the latest news.