Trending:
What to do if you drop your phone in water: you should hurry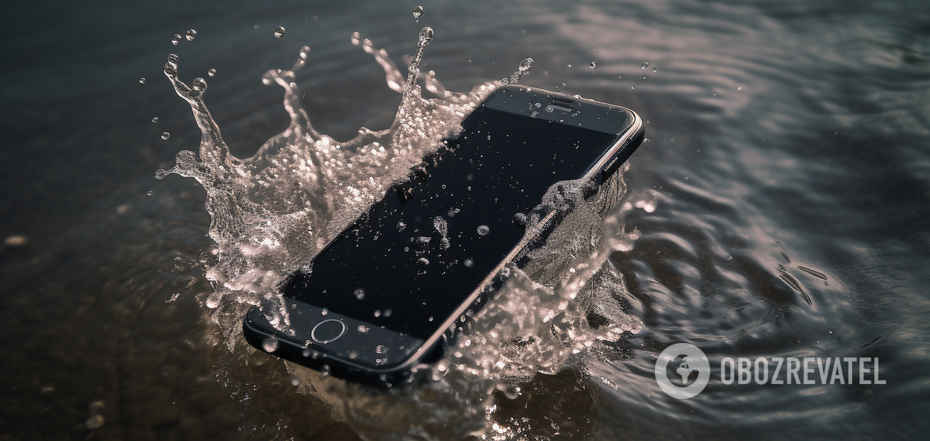 Smartphone fell into the water
No one is immune to trouble, so it's not uncommon for your phone to suddenly fall into water. The key is not to panic, shake the phone, or leave it on.
Experts also advise not to use a hairdryer and not to try to dry the gadget with paper towels. ASDA Mobile has published practical tips on how to dry your phone quickly.
Switch off the phone
You need to act quickly. According to experts, the longer you leave your gadget on when it's wet, the more likely it is to be damaged. Switch off your phone as soon as you take it out of the water.
Cleaning instructions
If your phone has been dropped into any liquid, such as a fizzy drink, soup or juice, try wiping the phone gently after switching it off until it has dried. Alcohol, beer, wine, and sugary drinks leave sticky residue, and salt water can corrode the surface. Therefore, wipe the gadget thoroughly with a damp cloth.
Emergency rescue rules
After switching off the phone, remove certain parts to prevent further damage. This includes:
SIM cards
microSD card
battery (if it is possible to remove it)
case/cover.
You can wipe the phone with a towel. Just make sure that it is lint-free. Do not allow water to get into cracks and connectors. Remove water from the headphone jack and SIM card holder.
When you can switch on your phone
After your smartphone is as dry as possible, try switching it on. Experts recommend doing this in about 24-36 hours to avoid overheating.
It's better to contact a service centre even if the phone works, as it may have serious damage.
What not to do
Experts have compiled the top common mistakes that users often make. Absolutely not allowed:
Leave the gadget switched on.
Switch on the phone while it is still wet
Use napkins or paper towels. This can damage the screen, as lint and small fibres can get stuck in the crevices.
Shake the phone to try to drain excess water. On the contrary, this will move the water inside, creating a great danger.
Use a hairdryer.
Insert headphones until the phone is completely dry.
Charge the phone.
Earlier, OBOZREVATEL told how to get rid of scratches on your smartphone on your own.
Subscribe to OBOZREVATEL's Telegram and Viber channels to keep up with the latest news.