Trending:
What houseplants should not be taken outdoors in summer: can die overnight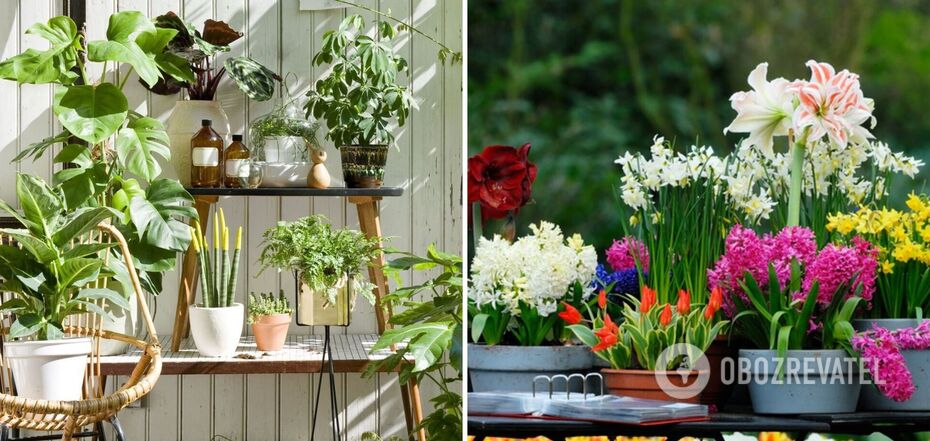 What plants should not be outdoors in summer
As the weather gets warmer, indoor plants are traditionally taken outside. Fresh air and sunshine usually have a favorable effect on their growth and development.
However, there are exceptions. Not all flowers will benefit from such a sudden change in conditions. What indoor flowers can not be taken outdoors in summer - read in the article OBOZREVATEL.
What flowers are better not to take outdoors in the summer?
Even one chilly night outside, a sudden rain or a gust of wind will be devastating for:
ornamental begonias;
some species of violets;
diffenbahia;
deciduous cacti;
nephrolepis;
adianthum;
alocasia;
anthuriums;
indoor maranthus;
philodendrons.
Which flowers can and should be taken outdoors
Resistant and unpretentious indoor plants, Mediterranean species and some varieties of orchids will feel great outdoors, will delight you with bright blooms and active growth. These include:
trachicorpus;
dateberry;
araucaria;
some varieties of orchids;
indoor roses;
hydrangea;
hibiscus;
birchlet;
fatshedra;
primrose;
chelxino;
cymbidium;
all kinds of citrus plants;
myrtle plants;
palm plants;
adenidum;
acocantera.
Spathiphyllum can only be taken out into the garden and placed near trees. Active summer sun will provoke serious burns - the leaves will be covered with yellow or brown spots. But also excessive shade is not tolerated by spatifillum, the lack of light will cause faded leaves.
Zamiokulkas can also be taken outdoors, but you need to choose a place in the shade. Sunlight for this plant is even harmful. The minimum daytime temperature that zamioculcas can tolerate is +10 °C, nighttime +6 °C.
Orchids can be taken out into the fresh air, when the temperature does not fall below +15 ° C. Bright light, high humidity and temperature changes will increase photosynthesis and the flower will gain vegetative mass.
What plants do not need to be taken outdoors in summer
Here is a list of plants that will be comfortable both in the room and in the garden:
aloe;
draceno;
fuchsia;
plumbago;
aralia;
desert cacti.
Rules for watering outdoor flowers
Do not water indoor plants in direct sunlight. It is better to do it in the morning or evening, using lukewarm water.
Is there a risk of pests?
When taking indoor plants outdoors, be prepared for the risk of pests. Spider mites are particularly common. This pest does not tolerate moisture, so do not forget to water the plant in time.
If you notice small holes on the leaves - it means the flower is gnawed by slugs. Act immediately. Put a small container of water in the pot. Slugs don't like moisture and will leave the plant alone.
By the way, placing houseplants in the yard, pay attention that some of them can be poisonous to cats.
Previously OBOZREVATEL told about the main rules of transplanting houseplants.
Sign up for OBOZREVATEL channels in Telegram and Viber to keep up with the latest news.