Trending:
What flowers should definitely be planted in the vegetable garden: protect against pests and diseases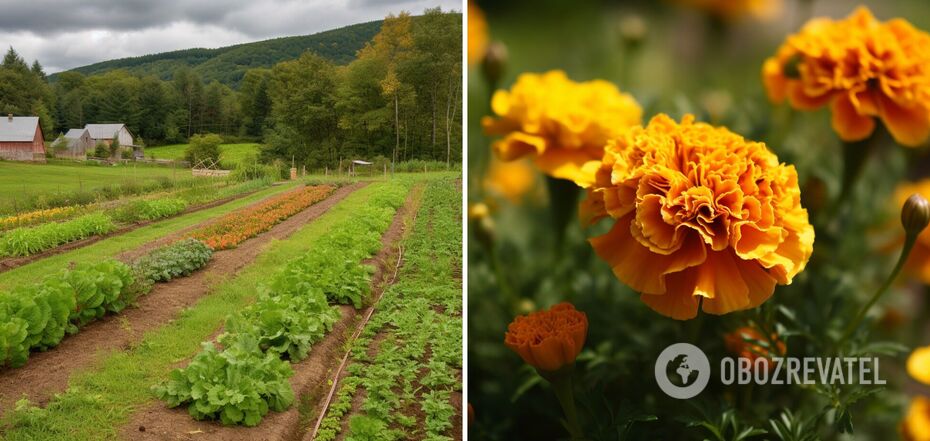 Marigolds will protect vegetables from pests and diseases
Marigolds are considered a symbol of home, warmth, childhood and pleasant memories. Ukrainians have long planted these flowers near their homes and on the perimeter of their beds, but not just to decorate the yard.
Marigolds are not just beautiful flowers. They can improve soil conditions, protect plants from disease, and even deter pesky mosquitoes. Read in the article of OBOZREVATEL why it is necessary to plant daisies in the garden.
Experienced gardeners and horticulturists advise planting marigolds in the yard and along the beds. They will not only beautify the landscape, but also help protect plants from diseases. Marigolds are excellent against pests, especially nematodes.
The smell of the flowers can ward off mosquitoes and bed bugs, which is why marigolds are often planted around homes, in front of windows and doors. Some insects cannot tolerate the rich scent of these flowers. In addition, marigolds contain a special substance that is used as the main ingredient in many chemical repellents.
Marigolds are recommended to plant next to vegetables. For example, near zucchini, pumpkins and tomatoes. The flowers will ward off pests and help the vegetables grow large and healthy.
Marigolds are also useful for improving soil quality. People say that vegetables planted in a bed after velveteen are less sick.
Flowers protect vegetable crops from phytophthora. This is a very dangerous disease, especially for tomatoes. As a fertilizer, it is advised to put crushed stalks of marigold grass into the soil. Such fertilization should be done in the fall, when the plants have already blossomed.
Marigolds can protect the soil. With a strong root system and large leaves, they can prevent erosion and enrich the soil with nutrients.
Previously, OBOZREVATEL told how to get rid of couch grass in the garden for a long time. It is not always necessary to use chemical means.
Subscribe to OBOZREVATEL channels in Telegram and Viber to keep up with the latest news.