Trending:
Ukrainian analogues of the world's most famous resorts: from Jerusalem to the Potteriana viaduct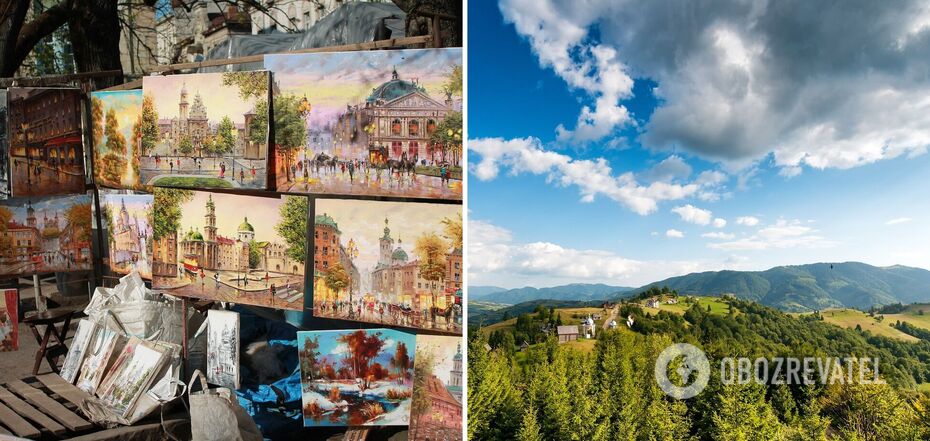 Little-known tourist places in Ukraine
To be honest, we don't like comparing Ukrainian resorts with foreign ones, looking for a second Maldives or Caribbean in our country. But unfortunately, so many people still don't know how rich Ukraine is in tourist destinations that we have to show them again and again that we are no worse than those abroad. And even better! So, if someone tells you again that you need to travel thousands of kilometres to have a relaxing holiday, show them this selection.
Zarvanytsia - the Ukrainian Jerusalem
A small village in the Ternopil region is very much like Jerusalem. It is said to be a real place of power, full of healing energy. That's why believers from all over Ukraine and abroad come here to renew their inner resources.
Zarvanytsia has a complex of religious buildings, in the centre of which is a copy of the Holy Sepulcher. In addition, you can see a replica of the Staircase of Repentance, the Garden of Gethsemane, the Lion's Gate and the Tower of David.
Despite the fact that the construction of the "Ukrainian Jerusalem" began in the village only in 2014, it has already gained considerable popularity. It is important to note that this is not just a tourist attraction, it is a sacred place. It is very important for Christians, who visit the local churches and temples in large numbers.
Uzhhorod is a little Japan
Japan is famous for its unusual culture, love of anime and, of course, sakura trees, which have been sung in hundreds of hokus. And if earlier these trees covered with pale pink flowers could be seen only in the land of the rising sun, now they grow on almost every street in Uzhhorod.
Of course, there are sakura alleys in other cities of Ukraine. For example, in Kyiv, they grow in Kyoto Park and in several other green areas. But no other city can overtake Uzhhorod in terms of the number of Japanese trees. Interestingly, there are even tours to this city that are bought just to admire the cherry blossoms.
Palanok or Burghausen?
Who hasn't heard of the Palanok Castle in Zakarpattia, which is surrounded by so many legends (sometimes plausible, but more often very mystical).
This defensive structure appeared in Mukachevo a long time ago. It is still unknown who and when laid the first stone in the construction of this fortress, but historians claim that in the XI century chroniclers already wrote about it.
For a long time, the castle was impregnable to anyone who tried to capture it. It is located on a mountain, so it was extremely difficult for enemies to get here. But it is interesting that because of this good location, many people wanted to get their hands on it.
It is said that Palanka has a "European analogue". It is the Burghausen Castle, located in the German town of the same name. They look very similar indeed.
Yamelnytsky trolls
Of course, travelling to Norway is an incredible pleasure. Its landscapes fall in love with you at first sight, and its rich folklore adds a little mythicism to an ordinary holiday. For example, there is a rock here that is nicknamed the Troll's Tongue. It is said that there is nowhere else in the world with such an amazing stone towering over an abyss. Obviously, nowhere else but in Ukraine.
Tourists who have ever been to the village of Yamelnytsia in the Lviv region are sure to have photos of the Yushkova Pit, which looks exactly like a Norwegian attraction. And here you can also see the Sigla Stones and the Black Stone, which locals avoid.
Potteriana in the Ternopil region
You also remember that incredible viaduct that was used by the train to Hogwarts. It really exists in Scotland and has long been a favourite place for Harry Potter fans. What would you say to the fact that there is almost the same one in Ukraine?
This strange bridge is located in Plebanivka, Ternopil region. The structure was built in 1896 by local craftsmen. The viaduct is considered one of the oldest and largest in our country. It is interesting that it has been standing intact for so many years and requires virtually no additional maintenance.
Earlier, OBOZREVATEL told where to spend the weekend in the Kyiv region.
Only verified information is available in our Obozrevatel Telegram channel and Viber. Do not fall for fakes!