Trending:
Trends of 2023: how Ukraine turned the fashion world upside down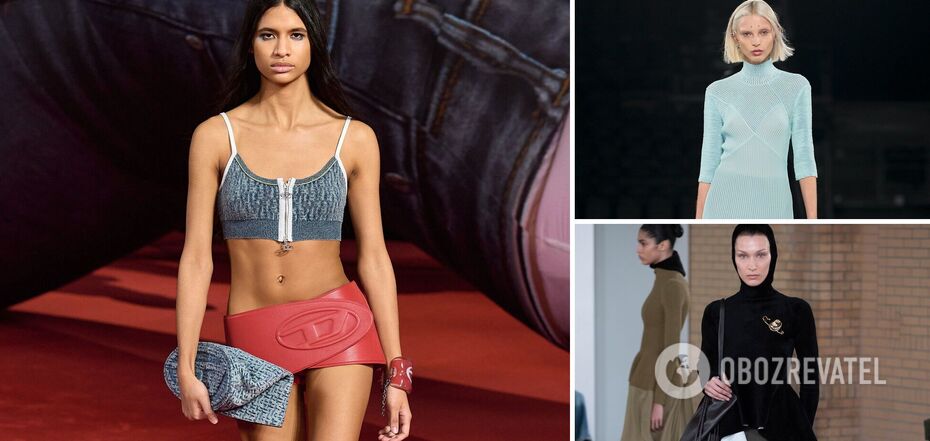 In just a week's time, the new year 2023 officially begins. Although hoodies and fleece pajamas are still the undisputed leaders of our wardrobe by blackout, soon the whole world will be watching the pretty fashionistas confidently wearing the 2023 trends. After all, you finally want to get out of shapeless stretchy "bags" and depression and plunge into joy and femininity. And I completely understand you!
Today I will tell you about the brightest trends of 2023, inspired by fashion weeks in fashion capitals of the world - New York, London, Milan, Paris. And you will be surprised - Ukraine is firmly included into the trends 2023. And no, this is not vyshyvanka!
So, let's see what the next fashion year has prepared for us...
The Military
The whole world had a painful year 2022 together with Ukraine - welcomed it with open arms at home, fed and supported it, proud and loved it. Of course, the theme of the war in Ukraine also touched on fashion. The militaristic (i.e. military camouflage style) became a trend of the season 2023 on all fashion weeks in all fashion capitals. The most striking performance in the military style took place at the Balenciaga show, where models walked around the baguette in field-like conditions.
Military-inspired prints and colours have joined both men's and women's wardrobes. So, make a bold choice of olive, brown, bog, grey-green and the famous "multicam" print and you're on-trend!
A particular "fashion trend" and the masthead of all Influencers is the khaki-coloured kargo. What does a khaki pant look like? They are trousers with large patch pockets on the hips and even on the legs, slightly narrowed downwards and with a cuff. If you've got the 'multicam' cardo, then you've got love!
White alcoholics
Not a propaganda for illegal substances or intolerance, the "alcoholic" T-shirt is a type of T-shirt whose style has long been a classic. So, this year's fashion trend has unexpectedly become a minimalist take on the Prada alcoholic T-shirt. Of course, you can choose another brand, but this one with a black triangle is the most desirable, even if it costs $1000.
By the way, this simple T-shirt, which was once worn purely as an undergarment, is an ideal option for hot summers and a great underlayer in the off-season. It's suitable for both women and men, as designers say when they celebrate gender-bending fashion.
Total denim
In 2023, total denim (or "all denim") finally made a comeback, twenty years later, to the delight of all fashionistas. It is loved by celebrities - Princess Diana, Elvis Presley, Anne Hathaway, Britney Spears, Keira Knightley were often seen wearing denim outfits from head to toe, whether it was trousers with a shirt or even a dress with boots.
But in 2023, ordinary jeans and a jacket will not be enough, as more deconstructive models, as if made from several items or from different parts of them, are now prevailing.
Hoods
A very interesting micro-trend that seems to pay homage to Eastern countries is a kind of stylised hijab. And wear it not only for walking, but even on the red carpets.
At this year's fashion weeks this trend in the form of open dresses and jumpsuits was presented by top brands Max Mara, Proenza Schouler, D&G. Even Bella Hadid remembered her oriental roots and wore a hooded outfit by Alaïa to a charity auction.
Corsets
The most feminine wardrobe item remains on-trend in 2023 to the delight of fashionistas. Corsets not only emphasise the waist and femininity, but also make the look more extravagant.
During the fashion weeks, corsets were sporty (Gucci & Adidas), leather (Dion Lee) and even lifejacket-like (Dior), so there is a wide range of options, depending on your style and taste.
Maxi booties
This trend can't be called super comfy, and it's also not easy to combine it with clothes to avoid turning into a stripper, but it definitely looks maximum impact! Versace and Diesel were particularly delightful at fashion weeks, introducing lacquered maxi booties that reach sky-high in length. Of course, such booties are available at a more affordable price point in the mass market, which has picked up the trend, but my favourite is Versace, which highlights the legs in the best way possible.
Belt skirt and belts
This is a real hit with those who love not just miniskirts, but micro skirts! A favourite of the noughties and Britney Spears, the petite either skirt or belt. At fashion weeks, designers showed off a chic maxi belt (like Diesel), or several belts linked together.
Biker jackets
Although today bikers mostly ride "sports", no one cancelled the classic biker jackets! This year though most brands are betting on bomber jackets and the street style of top stars like Bella Hadid are doing their thing. Lately, they've been opting for vintage leather biker jackets, wearing them in both casual looks and evening gowns. So we take by storm all possible vintage shops or brand shops like Harley-Davidson where you can buy an authentic biker jacket.
The sequins
The quarantine is over and the festivities are not! With the long-term quarantine over, everyone wants festive and lots of sparkle! Which was brilliantly demonstrated by leading designers during the fashion weeks: all these sequins and shiny fabrics, accessories and shoes were presented by GIVENCHY, MICHAEL KORS, RICK OWENS and BOTTEGA VENETA. And if you live by the "new year when I want it" principle, any of the glittering items of clothing can be easily incorporated into a casual style.
And finally about colours - the trends for 2023. Brown and chocolate, red and fuchsia are at their peak, and again in a total variation, i.e. from head to toe. The leader of brightness, of course, is the brand Versace, which recently even painted its own boutiques for its collection. But it's up to you to decide how you will dispose of the trends of 2023! And remember, designers and fashion weeks only broadcast trends, but it's you who creates them and wears them.