Trending:
TOP 10 things that will never go out of style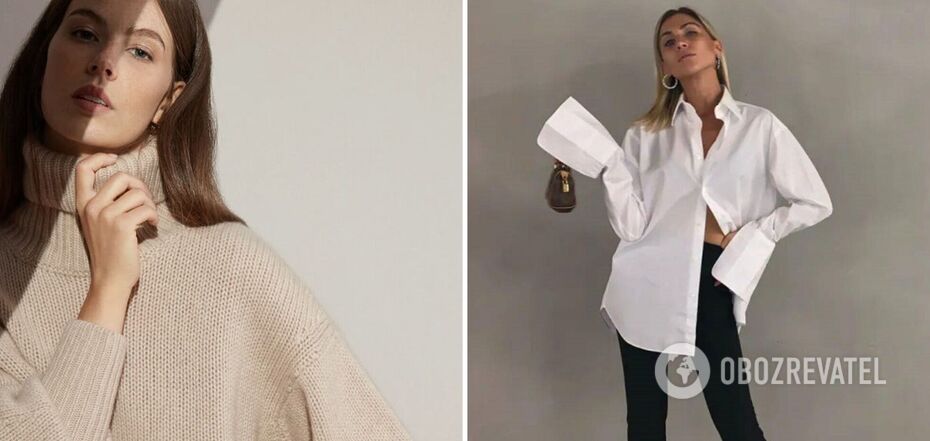 Or how to put together a basic capsule and save a lot of money and time! Today I'm going to tell you the basics that every stylish woman (or man) should know - the so-called capsule, or the kind of clothes that you can wear for many years and be a style icon.
So, there are trends, trends are all those clothes we see on stars, celebrities and on the pages of fashion magazines. They're all very fleeting and sometimes we don't even have time to put something on before it's already out of fashion.
But there are some clothes which will stay classics for years to come - so called classics, which will always be relevant. So why not invest in branded, quality 'long-lasting' pieces and not fret over 'what to wear' and 'does this fancy handbag go with something from my wardrobe'.
The term 'capsule wardrobe' was coined by Englishwoman Susie Fox, who had her own boutique in the 1970s. It was her term for a collection of basic items of clothing that never go out of style and can therefore be worn for several seasons.
1. Jeans
And it is the Levi's 501 model that is the most coveted American made of the highest quality blue denim with the perfect fit and shade. They are timeless! Suitable for both men and women, they are the most versatile Levi Strauss model since 1853.
2. Trench coat
The same beige raincoat, or rather a trench coat in camel, or camel-coloured shade. Of course, ideally, it should be Burberry.
Once upon a time, this piece of clothing was designed for the military, its fabric provided good protection from rain and wind. But in 1879, Thomas Burberry invented gabardine fabric, which was more resistant, and presented his development to the British authorities. After that, everyone from athletes to politicians started wearing the Burberry trench coat. It is indeed one of the most practical and stylish things, especially the noble camel trench coat, which can be easily combined with anything from jeans to a cocktail dress.
3. Little black dress
It's been written about a million times everywhere. Haven't you bought one yet?
Okay, then choose one that doesn't wrinkle and doesn't need to be ironed when you're in a hurry. It's the perfect must-have for travelling, for dates, office parties or social events. If your wallet allows, you can buy a dress from a luxury brand, such as CHANEL (after all, it was Coco Chanel who once came up with this revolutionary model at the time), or you can find this must-have in the mass market. The main condition is that the style should be perfect for you.
4. White T-shirt
Once worn by the US military as underwear, it is now a stylish and classic wardrobe staple for both men and women. A white T-shirt with a round neckline, straight cut, made of dense knitwear and the right medium length is the best choice for the base. It's better to choose a model without a print, because then you can style it as you like. And another tip about white: it's better to buy softer shades (ivory or milky, for example), because snow-white does not suit every skin colour type and also creates a sharp contrast with other clothes.
5. White shirt
This is a timeless classic and a must-have - a classic white shirt (not a blouse or a fitted shirt for women). The classic cut of a men's shirt is an indispensable item in the wardrobe and the basis of the basics. It can be worn both in a casual interpretation with jeans, and in the evening, and even on the beach! Yes, if you suddenly forgot a tunic or sundress, a white shirt will save you here, too. and, believe me, it will look chic and dignified!
6. White sneakers
Of course, white sneakers can be of any brand, but we all know that Converse sneakers are the favourites of the whole world. They used to be worn only on sports grounds - back in 1917, they were introduced as basketball shoes. And when basketball player Chuck Taylor took up the design of Converse, everyone fell in love with them and they became a cult favourite. Nowadays, you can go to any event in sneakers, it's no longer a bad thing. So feel free to jump into a snow-white pair and run straight to the Vienna Opera!
7. Cashmere sweater
It is a very pleasant and sensible investment in your wardrobe. Regardless of the price of any cashmere product, you are buying quality for a long time. This is a natural material (and therefore warmer than acrylic or synthetic), a pleasant colour (cashmere is dyed only with natural dyes), and a long-lasting item, because with proper care, it will delight you for years to come. The rule is to choose a simple classic straight-cut sweater with a V-neck or rounded neck and a not too bright shade, without any rhinestones or beads. In this case, it will be easier for you to combine it with a variety of things - from jeans to a white shirt or dress.
8. Dress shoe
Of course, every woman has super-fashionable or super-expensive shoes in her closet that are only comfortable to sit in. But you need to have some more - the ones that will last you the whole evening without changing into sneakers. Forget about 12cm stilettos, even if you are short! First of all, these stripper shoes are not fashionable and not a classic at all, and secondly, they look good only in photos, and on the sidewalk or pavement they look very comical. Choose a comfortable heel height and width, a classic colour - black, beige, muted red, a simple design without fittings or rhinestones - and these shoes will serve you for years, and you can combine them with trousers and elegant dresses.
9. Trouser suit
It's just a "classic classic". But wearing a suit like this with heels and a shirt is boring. Today there are many styles and styling options. For example, take "converse" and a white T-shirt, choose an oversized suit model - and that's it, a dynamic and stylish look is ready!
10.Leather (eco-leather) jacket
No matter what anyone says, a biker jacket (or leather jacket) has long been a classic. It will give any outfit a wild and daring touch - both with jeans and a dress. Be sure to choose straight and loose-fitting models, because you will look clumsy and ridiculous and have nothing to do with what you wanted to say.