Trending:
The rock painting turned out to be a drawing of a megastructure that is 8000 years old. Photo.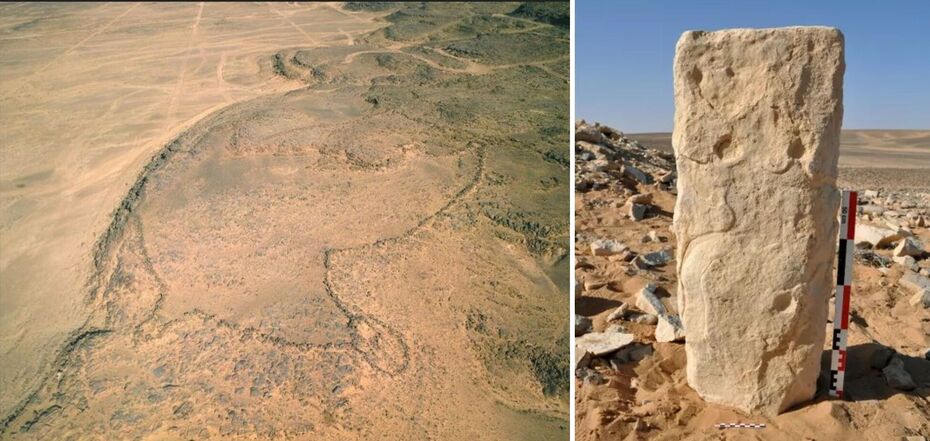 Desert serpent and its drawing on stone
Archaeologists have discovered stars and lines on the rocks of the Arabian Peninsula, which are probably drawings for megastructures that were found in the desert about 100 years ago. These are the so-called desert snakes, which scientists believe were used by ancient people to hunt animals.
In a study published in the journal PLOS One, archaeologists described engraved stars and lines that may indicate nearby hunting traps. They believe that this engraving may be the first drawing in human history, made about 8000 years ago.
Desert kites were discovered about 100 years ago when aerial photography began to be carried out from aircraft. For people on the ground, these structures were not very visible, while from the sky it became clear that they were large areas of land surrounded by low stone walls, sometimes with pits scattered around the edges.
It is believed that these areas served as pens or traps for animals. Scientists assume that ancient people drove an animal to this territory that could not overcome a stone wall or fell into a prepared pit, making it easier to kill it.
Scientists used to puzzle over how ancient people could build such structures without a plan. But now, after the discovery of rock paintings, they have found the answer.
According to LiveScience, the study found that the drawing from Jordan was most similar to a kite located at a distance of 2.3 km, while the drawing from Saudi Arabia was most similar to a desert snake at a distance of 16.3 km.
"The engravings are remarkably realistic and accurate, and are also to scale, as evidenced by the geometric graph-based shape similarity assessment. Thus, these examples of kite drawings are the oldest known architectural plans to scale in human history," the authors of the study said.
The researchers suggest that the plans were drawn not only to build kites, but also to define the roles of people during hunting planning and to determine the plan of action.
Scientists believe it is fascinating that in such ancient times people had abstract thinking, which allowed them to transfer what they saw in the drawing to the real world.
The authors of the study also suggest that the drawings found may not actually be the first drawings that ancient people made. It is simply possible that earlier diagrams were created on less stable material, such as soil.
Earlier, OBOZREVATEL also reported that scientists had found the first images of the vanished Tartesse people.
Subscribe to OBOZREVATEL's Telegram and Viber channels to keep up with the latest news.