Trending:
Death penalty for prostitution and colonial past: what you didn't know about Malaysia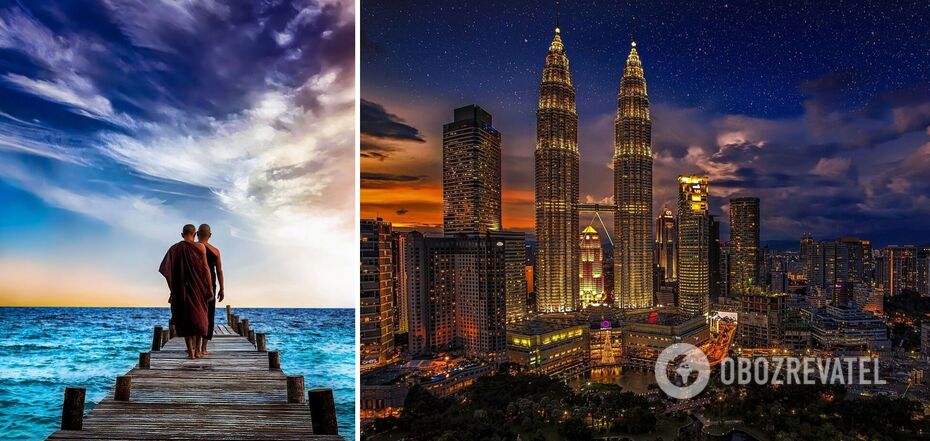 Interesting facts about Malaysia
Malaysia is one of the most popular exotic countries among tourists. Different cultures like poverty and luxury, beauty and dirt, skyscrapers and ruined houses are intertwined here. This does not prevent foreigners from vacationing at local resorts overflown with beautiful beaches, interesting excursions and comfortable hotels. However, not everyone knows how unique this country is. Let's fix it.
Malays are a very friendly and well-mannered people. But this was not always the case. In the past, these pleasant people were known as formidable pirates and experienced navigators. They were feared even by British captains.
This country was a British colony for a long time. The local form of government is a reminder of this. Malaysia is now ruled by the king. But, strangely enough, here he is elected for 5 years among the rulers of 13 states. In fact, the state is governed by the Parliament and the Prime Minister.
The old neighborhoods remind about the colonial past. Here unique architectural monuments are kept in good condition. Some of them are included in the UNESCO World Heritage.
Only half of the total population of the country are natives. All the rest are emigrants. More often you can meet natives of China and India. They come here for work and setting up business. Fortunately, the state policy is aimed at ensuring equal rights for all its citizens.
- Malaysia has an incredible natural environment. One-fifth of all animal species known to science can be found here. This applies to trrees and plants. Local islands will amaze you with the diversity of flora and fauna.
- There are also many rivers here, but they are all quite small. By the way, you shouldn't swim in them. Not only they are mostly incredibly polluted but also have poisonous snakes, alligators and various dangerous predators.
- During a vacation in Malaysia, you will notice a large number of children. According to statistics, every third citizen of this country is under 15 years old. Is it necessary to specify that there are a lot of large families here?
- Malaysians practically do not rest. The average duration of vacation in the country is 14 days. One could say that their hard work is to blame. But in fact, the problem is low pay, because of which the locals do not have the opportunity to have a normal vacation.
- Most of the country's residents work in the tourism industry. It is not surprising as Malaysia is among the top 10 most visited countries in the world.
- You will hardly ever see foreign-made cars and motorcycles on the islands of Taman. 80% of the population prefer local brands. It is because the country has a very high duty on imported goods.
- It is not easy to find meat dishes. The local climate is not conducive to cattle breeding. However, there is a lot of fish and rice fields, so it's not hard to guess what products are most abundant in the local markets.
- The most popular dish in the state is Nasi Kandar. This is boiled rice with curry and fish. In general, the Malays eat a lot of fruits because they are very cheap. Moreover, juicy fruits can be picked right in the middle of the street, saving on lunch.
- Meat is still sometimes consumed by the Malays. It is cooked on special holidays like weddings. Several chicken dishes are usually served on the table.
- Despite the fact that the Malays do not live very rich, this country is not poor either. Most of the inhabitants of the state are provided with work and everything they need. However, there is still a high crime rate here and a low percentage of educated people.
- Most of the inhabitants of Malaysia necessarily study in schools. They speak English quite well, have good manners and always smile.
- In local schools, they teach a unique subject, which is Formula 1 design development. In the near future, the authorities want to introduce subjects of choice in the educational program.
- Malaysians very rarely die from respiratory diseases. Here this indicator is the lowest in the world, which is less than 7.5 cases per hundred thousand people. Scientists have not yet been able to explain this phenomenon.
- One of the most popular diving centers of the world is located in Malaysia. This is the island of Sipadin. There are more than 3 thousand species of fish and corals living around it. Here you can see marine animals listed in the Red Book.
- Execution still exists in Malaysia, but it is very rarely used. Capital punishment is imposed for prostitution and selling drugs. However, this does not apply to all islands. For example, on Labuan there are several brothels operating at once and law enforcers simply ignore this fact (probably not for free).
- Bajo Sea gypsies can still be found on the islands. For the most part they are peaceful, boating and settling along the riverbanks, pearling, fishing and trading. However, sometimes they attack a settlement and rob peaceful people.
All in all, Malaysia is an incredible country with beautiful nature, friendly people and some of the best resorts in the world. It's worth coming here if only for the exotic views, delicious fruits and unforgettable walks.
Earlier OBOZREVATEL told what interesting facts you may not know about New Zealand.
Only verified information from us in Telegram-channel Obozrevatel and in Viber. Do not fall for fakes!