Trending:
Tastier than cutlets: meat krucheniki with stuffing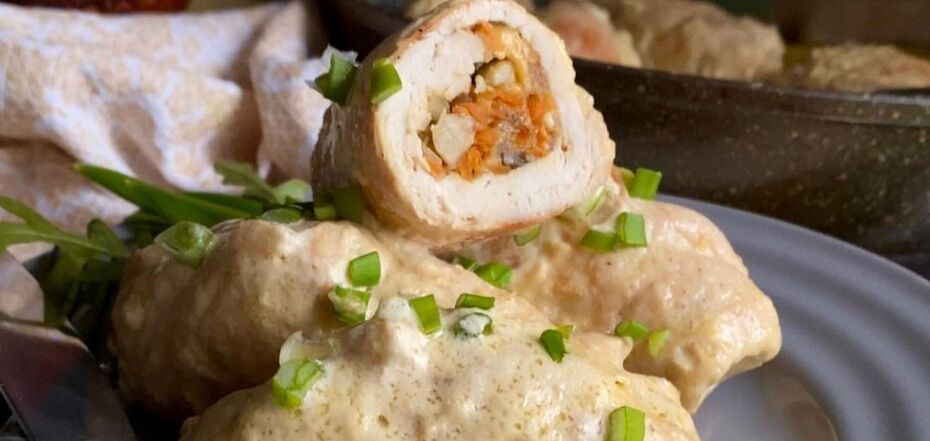 Recipe for krutcheniki
Krucheniki is a very hearty and simple dish, the basis of which is meat, and for the filling you can use mushrooms, cheese, onions, garlic, spices. They can be served with mashed potatoes, salads and simply with sauces.
Culinarian Julia shared on Instagram a recipe for delicious meat krucheniki with a mushroom filling.
Ingredients:
meat (chicken filet, pork) - 1 kg
cream or sour cream (fat) - 200 ml
mushrooms - 300 g
onions - 2 units
carrot - 1 pc.
hard cheese - 50-70 g
garlic - 1-2 cloves.
salt, pepper - to taste
frying oil
water - 150 - 200 ml
greens - as desired
Method of preparation:
1. Cut the meat into pieces, baste it under foil, salt and pepper it, let it marinade for 20 minutes.
2. Stuffing: fry onion with carrots and mushrooms in vegetable oil, salt, pepper and add grated cheese, mix.
3. Place the stuffing on the beaten meat, wrap it in a roll, fasten it with a toothpick. Then fry in vegetable oil on all sides until golden.
4. After taking the krucheniki out of the pan, remove the toothpicks. Add chopped garlic to this oil and add a little water to allow the liquid to cool. Mix the rest of the water with the cream and pour into the pan. Put all the croquettes in it and braise under a lid until tender, flip them over in the process. Remove from heat and add greens as desired.
Also on OBOZREVATEL you can read the recipes:
<a href="https://food.obozrevatel.com/osnovnyie-blyuda/tushenoe-myaso-s-kapustoj.htm" target="_blank">Stewed meat with cabbage</a>
<a href="https://food.obozrevatel.com/vyipechka-i-desertyi/farshirovannyie-blinyi-s-myasom-gribami-i-zelenyu.htm" target="_blank">Stuffed pancakes with meat, mushrooms and greens</a>