Trending:
Potato pancake with French meat: a hearty recipe for a festive table and for every day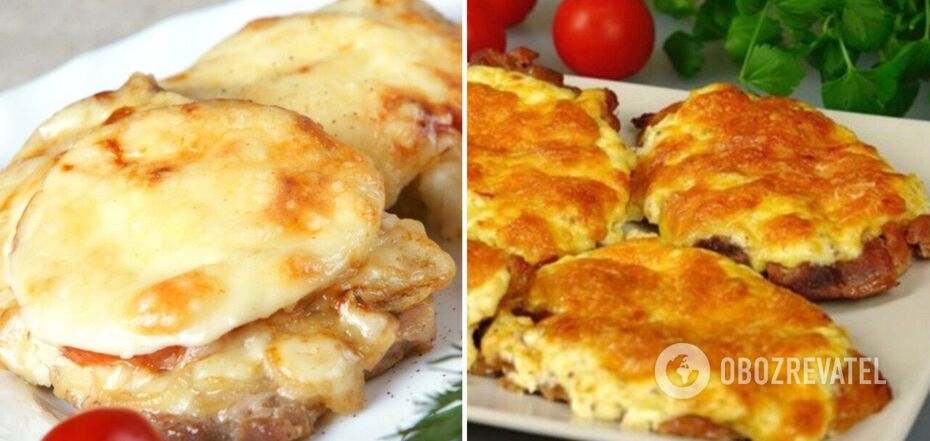 Recipe for the dish
Potato dishes can be as simple as mashed potatoes and fried potatoes, to hearty and tasty salads, stuffed potato pancakes, zrazy, pies, dumplings and casseroles.
Culinarian Elena shared on Instagram a recipe for delicious potato pancakes under the French-style meat , which will be a perfect option for a hearty meal for the holiday table and for every day.
Ingredients:
potatoes - 6-7 pcs.
eggs - 2 pcs.
flour - 1 tbsp.
onions - 2 pcs.
sour cream or mayonnaise - 1 tbsp.
meat (beat)
firm cheese - 100 g
salt, pepper - to taste
Preparation method:
1. Grate potatoes and one onion, add eggs, flour, sour cream and mix well.
2. Beat the meat well, salt and pepper it.
3. Place the potato mixture on the baking tray, then the bits, onion cut into rings, sprinkle with grated cheese, smear mayonnaise on top and bake for 40-45 minutes at 190 C.
Also on OBOZREVATEL you can read the recipes:
<a href="https://food.obozrevatel.com/osnovnyie-blyuda/myaso-po-frantsuzski-s-pomidorami-i-syirom.htm" target="_blank">French Meat with tomatoes and cheese</a>
<a href="https://food.obozrevatel.com/osnovnyie-blyuda/myaso-po-frantsuzski-iz-govyadinyi.htm" target="_blank">French Meat with beef</a>