Trending:
How to wash the bed to make it look like an expensive hotel: the main secrets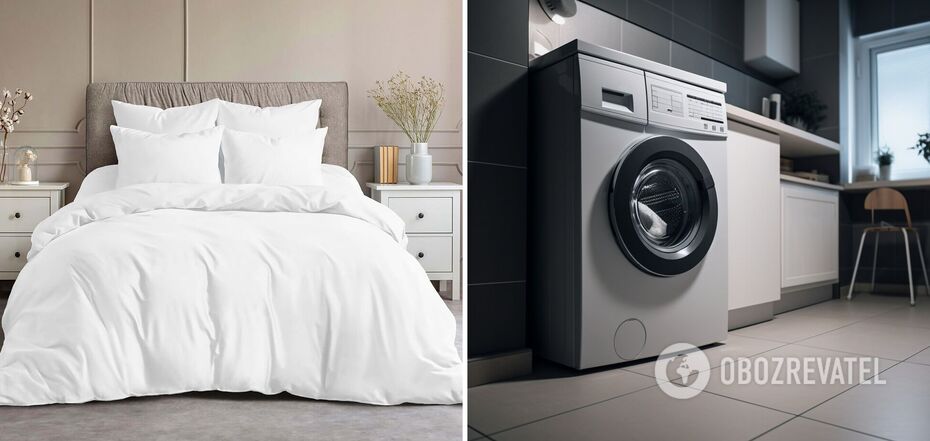 Life hacks for high-quality laundry
Expensive hotels attract people, in particular, with high-quality and soft bed linen. If you want to create similar conditions in your own home, you need to take into account several aspects: from the choice of textiles (it is best to buy linen made from natural fabrics) to the correct washing regime.
It is important to choose a high-quality powder and use a fabric softener. Read how to wash the bed to make it soft and smell good in the OBOZREVATEL article.
Sorting before washing
The laundry is sorted according to the water temperature recommendations. This information is usually found on the product label. In addition, sorting is done by category:
white items
coloured textiles
dark laundry
Bed linen is often affected by dust mites. They die at a temperature of 50 degrees, and this is the optimal indicator for washing sheets and pillowcases made of any natural fabrics. In addition, it is important to set the maximum wash cycle to at least two hours.
Pre-treatment of stains
Stubborn stains can be removed by pre-treatment. You can use a stain remover, liquid detergent or folk recipes.
You can also treat stains with vinegar before washing. Apply the mixture with water in a 1:1 ratio and leave for a few minutes. After that, wash the clothes as usual. For heavy soiling, use undiluted vinegar.
Washing powder
It is important to add the optimal dose of powder to the container. Excess household chemicals will remain on the fabrics and penetrate the fibres. As a result, the white bed will darken, and coloured fabrics will begin to shed.
Fabric softener
Fabric softener softens the fabric, so cleaning experts advise not to ignore this detergent. But note that an excessive amount of fabric softener will have the exact opposite effect - the fabric will become stiff.
Washing features
Overfilling the washing machine drum will not save you time, water or energy. On the contrary, an overloaded machine will significantly reduce the efficiency of the wash. A number of processes are impaired:
rinsing
washing
spinning.
In addition, there is a high risk of damage to the washing machine.
Drying the laundry
If your washing machine has a drying programme, use the low-intensity programme. It should be noted that coloured laundry should be dried very carefully in the sun - it can fade.
Earlier, OBOZREVATEL told what product will help soften and refresh the bed if you add it during the wash.
Only verified information is available in our Obozrevatel Telegram channel and Viber. Do not fall for fakes!