Trending:
How to wash pillows: methods for different fillings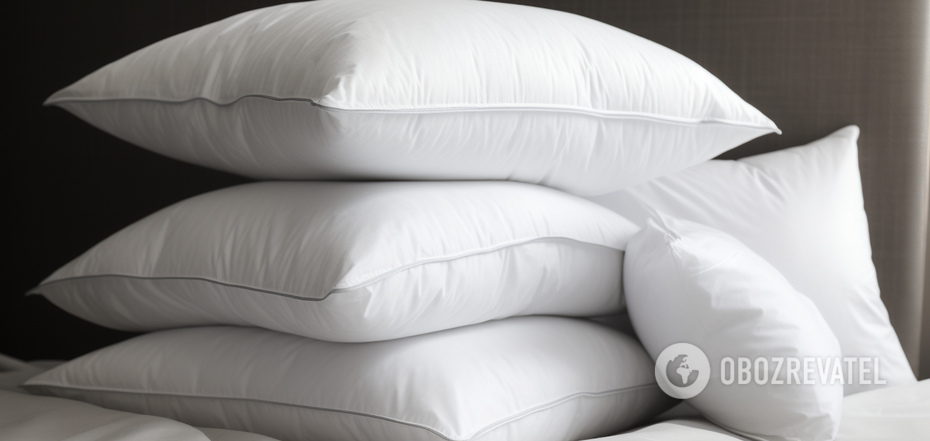 How to wash pillows correctly
Cushions should be washed at least twice a year. Before putting them in the washing machine, you should get rid of dust by using a vacuum cleaner or the good old-fashioned method of "knocking them out".
The water temperature should not exceed 40 °C, as higher temperatures can deform the fibres. Read how to wash pillows made of down, feathers and synthetic winterizer in the OBOZREVATEL article.
Washing down pillows
Wash down pillows at a temperature not exceeding 30°C. Hotter water can lead to changes in the composition of the fibre, which will cause an unpleasant odour.
The basic rules for washing down pillows include the following:
It is best to use liquid detergents rather than powders.
You can run a repeated rinse cycle to remove the remaining foam.
Experts advise wringing the pillows at a minimum speed to avoid fluffing them too much.
Dry them in the fresh air if possible.
Washing feather cushions
Washing feather pillows in the machine will be a lot of trouble. Experts recommend the only correct way to do it: open the pillow, put the contents in bags, sew them up and wash them at a temperature of no more than 40°C with liquid detergent. Otherwise, the feathers will simply clump together - but that's not the worst thing. There is a high risk that they will get into the drum, clog the filter and clog the drain. Therefore, feather pillows are washed by hand. After washing, rinse the bags with feathers and dry them thoroughly in the sun.
Washing synthetic fibre cushions
Synthepone consists of thin threads that are firmly bonded together during the heat treatment stage. The fibres are not hygroscopic, meaning they do not absorb sweat. You need to wash synthetic fibre pillows at least once every 6 months.
Washing features:
The optimum temperature is 40 °C.
Use liquid detergent rather than powder.
The rinse cycle should be repeated several times.
Do not wring out synthetic wintergreen pillows in the drum, as the adhesions between the fibres may be damaged.
The pillow should be placed in the bathtub to allow the water to drain. After that, you can gently wring it out, removing any residual moisture.
Can orthopaedic pillows be washed?
We are talking about pillows with ecological filling, for example, buckwheat husk. Such pillows are highly breathable, so there is no need to wash the plant-based fillings. Only dry cleaning is acceptable.
Earlier, OBOZREVATEL told how to dry things so that there is no smell of dampness.
Subscribe to OBOZREVATEL's Telegram and Viber channels to keep up with the latest news.