Trending:
How to easily get rid of all the stains on towels: an effective tiphack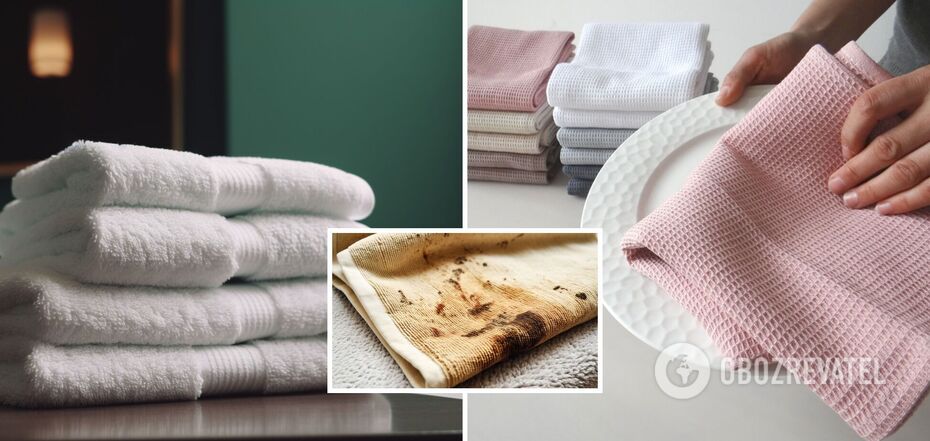 How to wash kitchen towels
Kitchen towels, if not washed regularly, can become veritable nurseries of bacteria. Dirt, grease and food residue penetrate deep into the fibers, so cleaning textiles can be difficult.
If laundry detergent does not help, experts suggest using a "folk" tiphack. Read in the article OBOZREVATEL how to get rid of all stains on towels without effort.
This method was used even by our grandmothers, in conditions of scarcity do not have enough alternatives. Proven over the years, the tiphack still has a great popularity. A simple vinegar will help to return the towels to cleanliness and laundry. Pour the vinegar into a container of warm water and soak the towels for at least 30 minutes.
Vinegar and citric acid can also be added directly to the washing machine. Along with the powder, 1/2 cup of vinegar should be poured into the conditioner compartment. Acidified water will bring back the cleanliness and freshness of kitchen towels. Citric acid can also be used instead of vinegar. It is also advised to mix it with the powder. It is important to pay attention to the washing temperature: the maximum allowable is 40 degrees.
By the way, light towels made of natural fabrics can be boiled with table salt or baking soda. These products will not only bring the textiles back to cleanliness, but also perfectly disinfect. Pour water into a saucepan and, after boiling, add 2-3 tablespoons of salt or baking soda to the boiling water. Then we immerse the towels and leave them to boil on low heat for 20 minutes. After soaking the towels in cold water. If desired, you can additionally wash them in the usual way.
In addition, hydrogen peroxide will help against stains. Read in our article how to use it correctly and in what proportions to mix it with detergent.
Previously OBOZREVATEL told how to get rid of mold stains on home textiles.
Subscribe to channels OBOZREVATEL in Telegram and Viber to keep up with the latest events.