Trending:
How to clean tile joints quickly: 3 ideal ways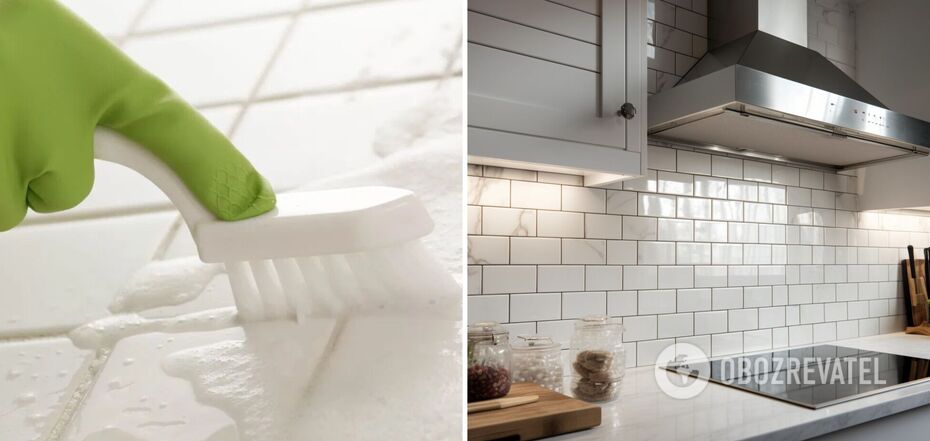 How to clean the joints between tiles
Tile joints can be cleaned with the help of improvised tools. The main thing is to do it regularly and thoroughly, as mould and other types of fungus can appear in hard-to-reach places.
If conventional detergent does not help, experts advise trying effective life hacks. OBOZREVATEL has selected three ways to clean stitches with high quality.
Why you should use vinegar
Vinegar is an ideal disinfectant. To clean the joints between the tiles, prepare a solution of vinegar and hot water, mixing them in equal proportions.
The product is best applied to the joints with an old toothbrush. You can leave the solution for a few minutes to allow the acid to work. Then rinse the seams with clean water and wipe them with a dry cloth.
Life hack with lemon juice
Stir the juice of one lemon and 2 teaspoons of baking soda in a bowl. You should get a paste-like consistency. As in the previous method, apply the product with a brush and leave it on for 5-10 minutes. Be sure to wipe the seams with a clean cloth.
Peroxide plus baking soda
This is a very effective combination for cleaning, shining and disinfecting surfaces. Mix baking soda and hydrogen peroxide in a small container until a thick paste is obtained. The optimal ratio is 3:1.
Carefully apply the product to the inter-tile joints, leave it for 10 minutes, rinse with clean water and wipe with a dry sponge.
Earlier, OBOZREVATEL told how to get rid of fungus in the bathroom using natural remedies.
Subscribe to OBOZREVATEL's Telegram and Viber channels to keep up with the latest news.