Trending:
How to clean a floor so that it is always clean: the Italian way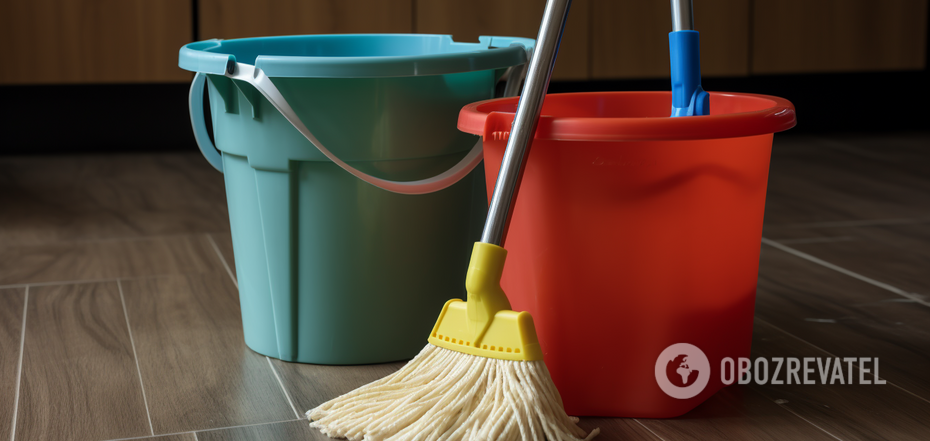 How to wash the floor so that it shines cleaner for longer
Cleaning floors is a boring and mundane task, unless of course you are a member of the small club of floor-lovers. Contrary to expectations, the effort spent is not always effective.
Often the floor gets dirty the very next day, and you can only dream about shine and cleanliness. Cleaning experts recommend using the Italian way of cleaning floors. The whole secret is to pay attention to detail. Read how to wash the floor to keep it always clean in the article OBOZREVATEL.
The Italian way to wash floors
Italians have learned how to clean so that cleanliness and shine remain for a long time, despite the fact that the arid Mediterranean climate brings too much dust into the rooms. Yes, this method is somewhat more energy-consuming, but very effective. There is a rule of four important steps.
Step 1. Sweep or vacuum the floor thoroughly to get rid of the dust.
Step 2. Soak a rag in a detergent solution and pre-clean the surface.
Step 3. Use a brush to remove any remaining dirt and dust in the interstitial joints. This is necessary to finally clean the floor of fine debris.
Step 4. Once again, wash the floor in the usual way.
Basic tips for cleaning your floors
In addition, there are several important nuances that should not be ignored.
Frequency of cleaning
It is recommended to clean the floor as often as possible. It should be done at least once every 5-7 days.
How to get rid of streaks
To avoid stains on the surface, cleaning experts recommend diluting a concentrated detergent.
The wet rag rule
There is no point or benefit to wiping the floor with a dry rag. It should be damp enough to get all the dust and dirt off the surface.
Drying rule
The floor should be completely dry within about 15 minutes. Do not walk on a wet surface.
By the way, white vinegar is often used to clean laminate, vinyl and wood floors. It has pronounced antibacterial, cleansing and disinfecting properties. How to prepare the solution and what proportions to adhere to - read in the article.
Previously OBOZREVATEL told how to clean the carpet without removing it from the floor.
Subscribe to OBOZREVATEL channels in Telegram and Viber to keep up with the latest news