Trending:
How many eggs to add to the dough for a fluffy, high and easy sponge cake: a simple recipe from the cook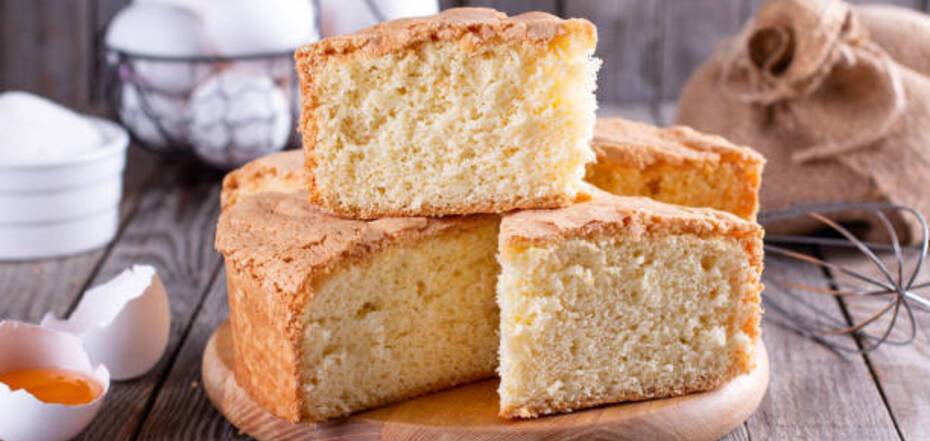 How to make a high sponge cake
One of the most common and easiest desserts to make is a sponge cake. This type of pastry is known all over the world. It is very easy to prepare, you just need to follow the exact proportions, then it will turn out tall, airy and very tasty.
Culinarian Anna shared a recipe and tips on Instagram for making a very successful, puffy sponge cake that would make the perfect base for desserts.
Tips from the chef:
for an 18 cm diameter mold - 3-4 eggs;
for a 20 cm diameter baking dish - 5-6 eggs, etc.;
according to the diameter of the mold, increase the ingredients as many times as the recipe calls for eggs.
Ingredients:
eggs of category C1 - 1 pc.
sugar - 30 g
flour - 26 g
corn or potato starch - 6 g
Method of preparation:
1. Preheat the oven to 170°C.
2. Combine room-temperature eggs with sugar and beat for 20 minutes. The egg foam should be thick, fluffy and after whipping for another minute, the pattern should stay on the surface.
3. Combine the flour and starch, add to the beaten eggs in 3-4 parts, mix with a silicone spatula so that the dough does not lose its lightness.
4. Pour the finished dough into a split mold covered with parchment or foil. Important: do not grease the mold, as the sponge clings to the walls of the mold and grows during baking.
5. Immediately put the sponge cake pan into the oven preheated to 170 degrees. Middle-level, top-down mode without blowing. Bake for 40-45 minutes.
6. Remove the finished sponge cake from the oven, turn it upside down on a wire rack, remove the foil/parchment from the bottom after 10 minutes and cool completely.
7. Cut the cooled sponge cake out of the mold with a sharp knife, running it along the walls of the mold. Carefully wrap in cling film and refrigerate for at least 8 hours. This way, the moisture in the sponge cake will be evenly distributed and it can be easily cut.
Also, you can read these recipes on OBOZREVATEL: