Trending:
Happy Mother's Day: sincere congratulations for the dearest people in verse and prose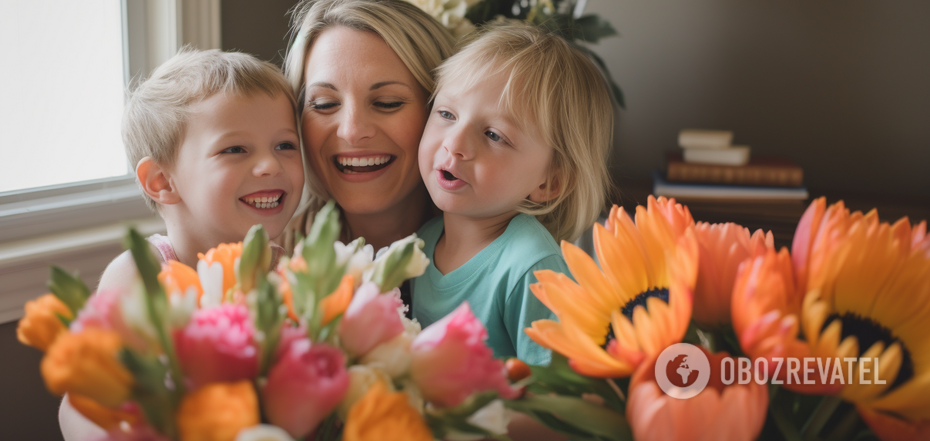 Mother's Day is a beautiful and bright holiday that Ukrainians will celebrate on May 14 in 2023. Of course, you should not wait for a special occasion to say important words to your loved one.
Mother's Day falls on Sunday, so if possible you should gather around the family table or visit your mother if she lives far away. OBOZREVATEL publishes the most sincere congratulations for Mom.
***
Happy Holidays, my dearest one! You are my guardian angel, my support, and my soul. Thank you for everything you have done for me. I wish you good health, joy, kindness, harmony in my heart, and peace in my thoughts. I love you and miss you very much.
***
Mommy, Happy holiday! You gave so much warmth, joy, support, care, and understanding that life is not enough to thank you. Thank you for the best childhood, for the pleasant memories, thank you for everything you gave all those years for my happiness. I appreciate and love you very much.
***
Mom, I wish you God's blessing and happy days. I miss you very much and want to meet you as soon as possible under a peaceful sky. I wish you many years of life, good health, understanding, and peace in your heart. I will do anything to make you proud of me.
***
The dearest, the most affectionate, the best my mommy! Thank you for your support and care, and for your joyful and happy childhood years. I'm sorry for your sleepless nights and for the fact that I could once inadvertently hurt you. Your love is boundless, your support is invaluable. I wish you good health and the protection of higher powers. You are the most important person in my life.
***
Pischno grass is closing in on the day.
In the spirit of Jasmine.
Luba's mom, gives me a laugh,
I'm coming to talk to you.
Mother, you're the only one of them all.
You know how to love and cherish.
The most precious time on earth,
Where you taught me how to live in the world.
The grass is a tune,
Mother's Day knocked quietly on the shibboleth,
Among all the earthly and true divas.
Mother's love is the brightest.
***
Happy Mother's Day, my dear! I want to be your joy and pride, I want to do everything to make you proud of me. Thank you for raising me to be honest and kind, bequeathing me the right values, and teaching me to love. May every day give you a reason to be happy? And most importantly, may we win soon and have peace, so that you and I, Mom, will never be apart for so long again.
***
Do you know, Mom, why I manage to achieve everything I dream of in life? It's because of your support, your love, and your prayers. Happy Holidays, sweetheart! Your love is boundless and priceless, and I promise to do everything for you and for your sake so that your motherly heart knows no tears or worries.
***
Happy Mother's Day, my love, I congratulate you
Thank you so much, Mom, for everything,
For your tenderness, turbulence, infinite love,
For your great golden heart!
***
How many times, Mother, have I told you how much I love you? Even if I repeated it a hundred times every day, it wouldn't be enough. You have given me so much tenderness, warmth, and love, you have always supported me so much, that I just can't find the words to express my gratitude. You are my happiness and my blessing. You are my everything. May your eyes never know tears. I wish you good health, peace, and kindness. I love you incredibly much and will give you a big hug when I see you.
***
Only as you get older do you begin to understand that motherhood is a real feat. Thank you, Mom, for your patience, for your efforts, for your dedication, tenderness, support, faith, and love. For me you are the best and most beautiful, I treasure every wrinkle, every smile of yours. I wish you good health, joy, lots of happy moments, and fewer tears. I promise to always be there for you and make you happy with your achievements.
***
Motherhood is a mountain,
It is a gift from God.
On Mother's Day, I wish you
Golden happiness.
May you give me hope
My dear children,
Wounded in my heart.
Warm hand-me-downs.
May your children give you?
Strength and nourishment,
Let your children give you strength and nourishment.
The world is full of joy.
Previously, OBOZREVATEL offered interesting gift ideas for Mother's Day.
Subscribe to OBOZREVATEL channels on Telegram and Viber to keep up with the latest developments.