Trending:
Expectation vs reality! These photos of the most famous places in the world are sure to surprise: disappointment awaits many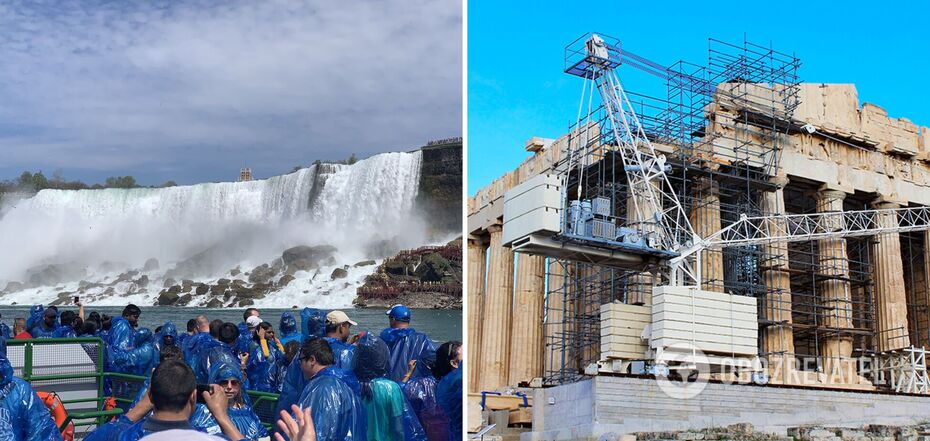 Sights in real life differ from photos
When preparing for a trip and looking at beautiful pictures, tourists often imagine one thing, but when they arrive in the country, they see quite another. In reality, large queues and crowds of tourists cause a lot of inconvenience.
In addition, famous buildings are often under restoration. OBOZREVATEL compared photos of tourist places in reality and in the network.
Parthenon in Athens, Greece
Before traveling to the Parthenon in Greece, you should wear comfortable shoes and a hat, as you will have to walk uphill for a long time on slippery stones or slabs under the scorching sun. It is forbidden to pick up stones and don't even try to break off anything from the temple itself. There is a heavy fine for destroying the landmark.
Before traveling to the Ganges River in India, you should not wait for an opportunity to take romantic photos without crowds of tourists. This natural attraction is always visited by millions of people as there are many sacred temples located on the banks.
The longest structure in the world is the Great Wall of China, which is visited by 40 million tourists every year. Badaling is the most visited section by tourists, located 75 kilometers from Beijing. Getting to it on your own is not difficult. It can be done by express buses, cabs or trains.
The capital of the Czech Republic is rich in outstanding architectural and cultural sights. The most famous is the Charles Bridge, in any season it is crowded with tourists.
Times Square in New York, USA
The most famous square in New York, USA in life is not as colorful as on the photo. In fact, Times Square is very noisy and it is hard to stay there for a long time because of the crowd of people.
The best bird's eye view of Niagara Falls, however, this luxury is not available to everyone. Lookouts are usually covered by a column of spray from the sheer volume of water.
Park Güell in Spain is very popular, it is added to the travel plan by all tourists. It is one of the symbolic places of Barcelona, and everyone who has visited the city has a picture from there.
To get to Machu Picchu without crowds of tourists, you should not go up there early, as all visitors plan to see the monument at sunrise. There is no need to go to Machu Picchu on Sunday, as locals have free admission on that day.
The geysers in Yellowstone Park in the United States look different every day. Few people get to see the multicolored lakes, but eruptions occur every hour and a half.
The most popular times for gondola rides in Venice in Italy are midday and evening. Therefore, if you do not want to sail "in the crowd", choose morning or afternoon.
Earlier OBOZREVATEL wrote about seven places to visit in Istanbul. In these little-known places there are no crowds of tourists.
Only verified information from us in Telegram-channel Obozrevatel and in Viber. Do not fall for fakes!