Trending:
Every resort is the best: what you need to know about vacations in the Dominican Republic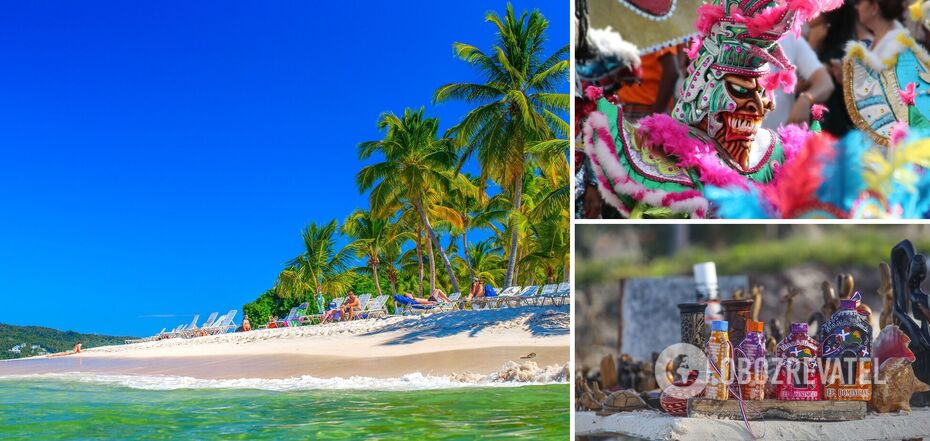 What you need to know about vacations in the Dominican Republic.
The paradise country with the world's best beaches, tropical forests, savannahs and mountains annually receives tens of thousands of tourists. They come here to enjoy an exotic vacation with comfortable weather and affordable prices. However, this destination also has its own nuances, of which you should be aware before you travel.
Entry rules for the Dominican Republic in 2023
Ukrainians are still not required to obtain a visa to visit the Dominican Republic. They can safely stay in the country for up to 30 days, carrying only a passport. After this period, you can apply to the migration service and extend your stay at the resort for another month.
To enter the Dominican Republic must have:
A passport valid for the period of the trip to the Dominican Republic plus one month;
Booking confirmation of accommodation for the entire trip;
Return ticket;
Health insurance.
After crossing the border, you will need to pay a special fee of $10. Interestingly, when leaving the Dominican Republic, you must again pay a cash fee, this time doubling the amount. Only children under the age of two are exempt from this fee. Please note that to travel with children, you must obtain a power of attorney from the parents.
Unlike many other countries in the world, the Dominican Republic has no preferential program for Ukrainians. So it is simply impossible to stay in its territory as a refugee.
How to get to the Dominican Republic
In the past, the way to this country was quite simple. There was a flight from Ukraine, on which you had to make only one connection in the EU. Now, however, everything is a little more complicated.
First, you need to get to Warsaw. You can do this by train or bus. Transport to the Polish capital operates from many cities in Ukraine, particularly from Kiev, Lviv and Ivano-Frankivsk.
Then you should buy tickets from Warsaw to Punta Cana with a connection in Frankfurt am Main or Madrid. The waiting time for the flight can be from 2 to 24 hours.
Ticket prices start at $730 and can reach several thousand dollars.
Hotel prices
Prices for hotels in the Dominican Republic may vary significantly depending on the location, comfort level, service and other factors. Here are some indicative prices for accommodation in this country:
Room for two in economy class: from $20 to $50 per night;
Standard double room: from $50 to $150 per night;
Standard double room: from $150 to $500 per night;
Deluxe rooms: from $500 and up per night.
Prices for hotels may vary depending on the season and holidays such as Christmas, New Year, Easter, and others. Also note that some hotels may include in their price various services such as meals, airport transfers, etc.
Food Prices in the Dominican Republic
Fortunately, food prices in the Dominican Republic are quite affordable. Of course, we are not talking about luxury tourist restaurants, but about the hundreds of cafes frequented by locals. To find them, just talk to the people on the streets. They will gladly tell you where to eat delicious and inexpensive food.
Approximate prices for food in the country:
coffee: $1-2
beer: $2-3
water: $1-2
juice: $2-4
burger: $4-8
pizza: $8-12
salad: $6-10
seafood: $10-20
steak: $15-25
The best resorts in the Dominican Republic
In this country, almost every resort can be called the best. The entire coastline is covered with hundreds of comfortable hotels, almost all the beaches are free, a lot of dining and entertainment facilities for tourists. But there are destinations that exceed all expectations.
This resort has something for everyone. There are great entertainment complexes, diving centers, a bunch of nightclubs, and sightseeing tours. In addition, there are beautiful national parks filled with a variety of trees and flowers, among which rare birds fly and beautiful animals run around.
This resort is suitable for lovers of luxury holidays. Everything is made to make you feel comfortable at any time. Local beaches are the best, restaurants are famous for their exotic dishes, hotels - rooms with incredible views, and what are the local golf courses.
However, this is a destination that not everyone can afford. Here, of course, everything is arranged at the highest level, but you have to pay for it accordingly.
The youth activity resort attracts hundreds of surfers and other water sports enthusiasts every year. It is easy to find like-minded people and have a good time in the great company of people from all over the world.
By the way, Cabarete sells exotic spices, which are difficult to find in our country. So do not miss the opportunity to buy unique spices that will add a twist to your dishes.
Earlier OBOZREVATEL told you in what countries the beach season begins soon.
Only verified information in our Telegram channel Obozrevatel and Viber. Do not be fooled by fakes!