Trending:
Don't you recognize it? How have the actors of the movie "Ocean's Thirteen" changed over 16 years. Photos then and now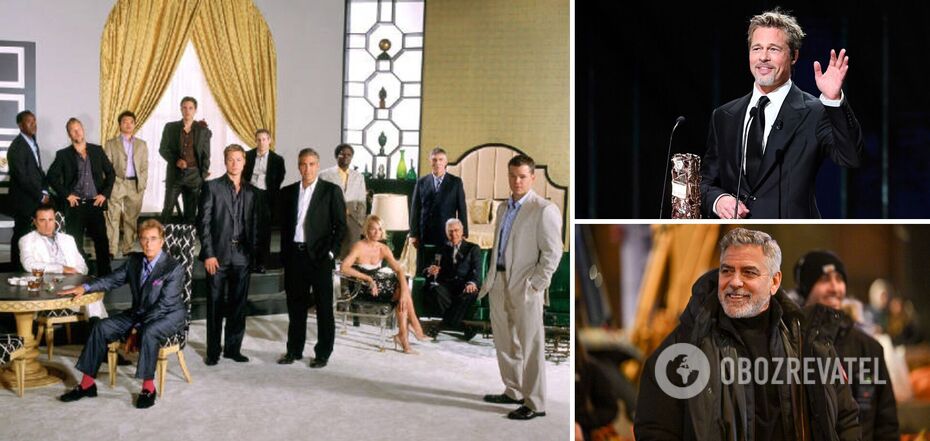 How have the actors of ''Ocean's Thirteen'' changed?
In 2007, the third and final installment of the iconic franchise about con man Danny Ocean and his friends was released. Steven Soderbergh's film "Ocean's Thirteen" was an unprecedented success and popularity among viewers. Sixteen years have passed and the crime comedy still arouses interest among the fans.
OBOZREVATEL decided to show how the actors of the famous story have changed for 16 years after the third part. George Clooney recently turned 62, and Brad Pitt will celebrate his 60th birthday this December.
George Clooney (Danny Ocean) - 62
George Clooney was a very famous and popular actor even before the role of Danny Ocean, but the film reinforced for him all these regalia. Now Clooney continues to actively star, and in major roles.
Brad Pitt (Rusty Ryan) - 59 years old
Brad Pitt certainly needs no introduction. One of the most famous actors in Hollywood, who has hundreds of roles in mega-successful projects. Proof of this is seven nominations for "Oscar", of which the filmmaker managed to get two. Pitt continues to please an army of millions of fans with new works.
Matt Damon (Linus Caldwell) - 52
Another actor whose career can be described as unequivocally successful. Matt Damon's arsenal includes an Oscar, a Golden Globe, a Sputnik, and many other prestigious awards.
Andy Garcia (Terry Benedict) - 67 years old
Andy Garcia rose to fame by starring in the cult film "The Godfather 3," and "Ocean's Friends" was the perfect addition to his dense filmography.
Don Cheadle (Basher Tarr) is 58
A two-time Golden Globe Award winner, Oscar, BAFTA and Emmy nominee, here's what you need to know about Don Cheadle. The actor continues to do a lot of acting. In addition to "Ocean's Friends," he is also known for "Iron Man" and "The Avengers," the TV series "Resident Lies" and the drama "Hotel Rwanda."
Al Pacino (Willy Bank) is 83 years old
The legendary Al Pacino is most famous for his roles as gangsters - Michael Corleone in The Godfather trilogy and Tony Montana in Scarface. So it is not surprising that with the role of Willy Bank, the actor coped with the role of the unsurpassed.
Scott Caan (Turk Malloy) - 46
For Scott Caan, the role in the three-part crime comedy was the most successful of his career. He also played in the successful series "Hawaii 5.0" (2010-2020), but to surpass the popularity of "Ocean's Friends" he failed.
Vincent Cassel (François Toulour) - 56 years old
The French actor and producer and former husband of Monica Bellucci is famous for dozens of successful films, among them "Black Swan", "Vice for Export", "Enemy of the State N1", "Crimson Rivers" and, of course, "Ocean's Thirteen".
Earlier OBOZREVATEL wrote how the actors of the iconic series "Game of Thrones" have changed. The project, the first episode of which was released in 2011 and the last one in 2019, starred young stars who have grown and changed a lot during the filming. Many of them are already hard to recognize.
Only verified information in our Telegram channel Obozrevatel and in Viber. Do not be fooled by fakes!