Trending:
"Day X" will come for Putin: Germany tells what equipment Ukraine will receive and give a forecast for the Ukrainian Armed Forces' counter-offensive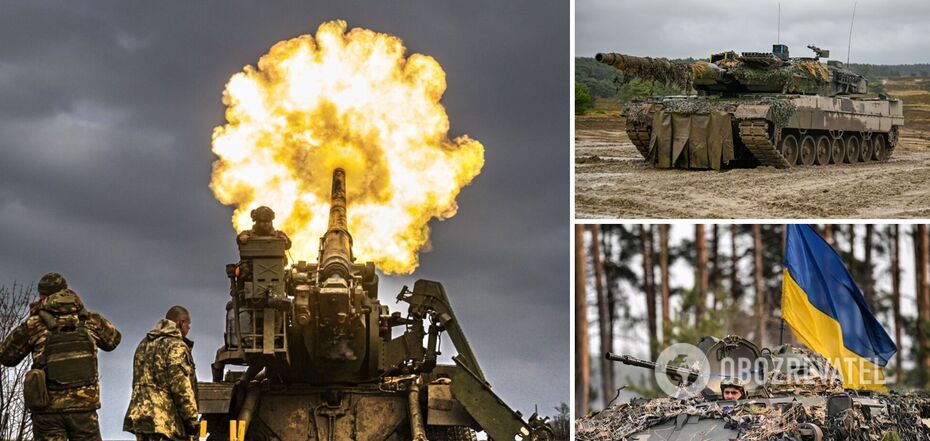 The countdown to "Day X" begins
Western weapons continue to arrive in Ukraine, provided by partners and needed by the Armed Forces for the upcoming counter-offensive. Military expert Nico Lange predicts that "Day X" for Putin's army will come in May.
This was written by the German edition of BILD. Last weekend, dozens of German battle tanks and armoured personnel carriers arrived in Ukraine, including up to 21 Leopard 2A6s and 40 Marder vehicles.
Over the past few days, the UK has also delivered 14 promised Challenger 2 main battle tanks to Ukraine. In addition, the first of the 90 Stryker combat vehicles promised by the United States and many other heavy weapons have already arrived. Kyiv has also already received more than 100 Bradley armoured personnel carriers, 50 Swedish CV90 combat vehicles and 40 French AMX-10RC reconnaissance tanks.
In this context, experts say that the countdown to "Day X" is starting. The day when the powerful Ukrainian armed forces, equipped with modern Western weapons systems, will begin to reclaim their country from the Russian occupiers.
"I expect Ukraine to strike in early or mid-May," said Lange.
He added that in order to inflict maximum damage on the Russian occupiers, tanks and armoured personnel carriers should be used in conjunction with other weapons systems. These include artillery, drones, demining equipment and aviation.
According to the expert, before Ukraine begins to use its new weapons against the Russian army, Ukrainian defenders will simulate decisive battles in the east and south of the country far from the front line to prepare as much as possible.
It is noted that the German Leopard 2A6 is 95% superior to Russian tanks. It can target its enemies at a distance of up to five kilometres, including on the move and at night. At the same time, most Russian tanks can only fire accurately at a distance of one to two kilometres and only when standing still.
Experts emphasise that if Ukrainians make optimal use of modern German tanks, the Leopard 2A6 can perform as well as the American Abrams in the 1991 Gulf War.
At that time, the Americans won all tank battles against Soviet tanks, which Russia still uses today. During the battle of Basra on 27 February 1991 alone, US forces destroyed 186 tanks, losing only four Abrams.
It is worth noting that, in general, Russia is concerned about the upcoming counter-offensive of the Ukrainian Armed Forces. Russian propagandists are most concerned about the covert supply of Western weapons to Ukraine and the Ukrainian command's propensity for non-standard military solutions.
As reported by OBOZREVATEL, Pentagon chief Lloyd Austin said that the Russian occupation forces have already depleted their supplies for the war that Russia has unleashed in Ukraine. He said that the Ukrainian Armed Forces have a "very good chance" of a successful counter-offensive in the spring of 2023.
According to the US Secretary of Defence, Ukraine currently has a "significant advantage" over Russian forces.
At the same time, President of Ukraine Volodymyr Zelenskyy said that the Ukrainian army is not yet in a position to launch a major counter-offensive. According to him, the military needs additional weapons, including ammunition and fighter jets.
Only verified information in our Telegram channel Obozrevatel and in Viber. Do not be fooled by fakes!