Trending:
Cucumbers will be very juicy: what's in the golden fertilizer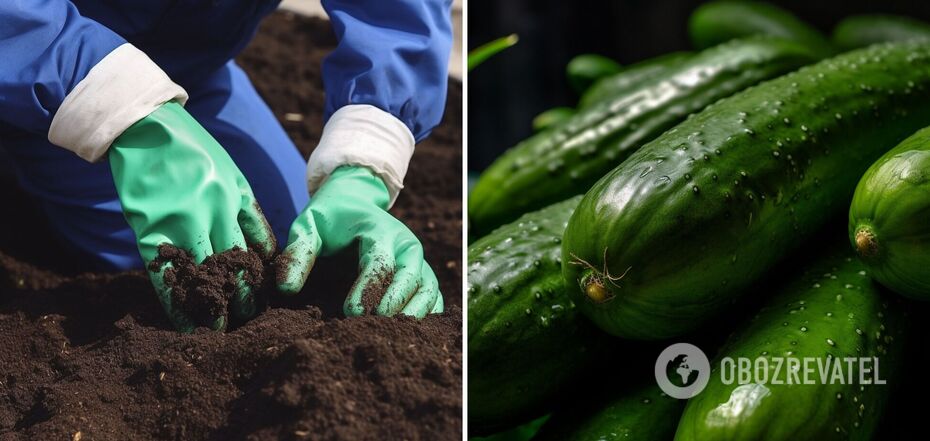 Lack of nutrients dramatically spoils the taste of cucumbers
Sometimes you take a strong, beautiful summer cucumber for a salad, but it has a "cotton" texture inside and has no flavor at all. This can happen particularly because the fruit was grown in poor soil and did not get enough nutrients.
OBOZREVATEL found out what fertilizer can remedy the situation, so that cucumbers were abundant and tasty and juicy. There are several options for feeding, which will help in this. But they work better in tandem - using three popular fertilizers together is even called the golden fertilizer.
Nitrogen
The nitrogen component is the base of the golden fertilizer. In it, this substance is responsible for the rapid growth of the plant and its recruitment of green mass. Therefore, nitrogen fertilizers are recommended to make during the period when it only grows. Although they will be appropriate at any time of growing cucumbers, because without them it will not be possible to achieve a good harvest.
Phosphorus and potassium
Phosphorus-potassium fertilizers promote full development of the root system, as well as help grow the stem and leaves and increase the resistance of cucumber shoots to diseases and pests.
How to apply golden fertilizer
The best time to fertilize plants is when they are actively growing and fruiting. But even during this time, it is best to avoid fertilizing if it is dry and you do not water the garden regularly. Also rainy weather is not conducive to fertilizing the soil.
Experienced gardeners say that the golden fertilizer is best applied in the period when cucumbers begin to bear fruit. In this case, the main share in the fertilizer should be potassium and nitrogen, and it is better to add a little phosphorus. In this case, they will not only ensure a good harvest, but also keep later fruits from twisting, resulting from soil exhaustion.
Previously OBOZREVATEL told than to feed carrots, so that the fruits were large and smooth.
Subscribe to OBOZREVATEL channels on Telegram and Viber to keep up with the latest news.