Trending:
Charlize Theron, Jared Leto, Tom Hanks and others: the stars who went for a radical transformation for the roles. Photo by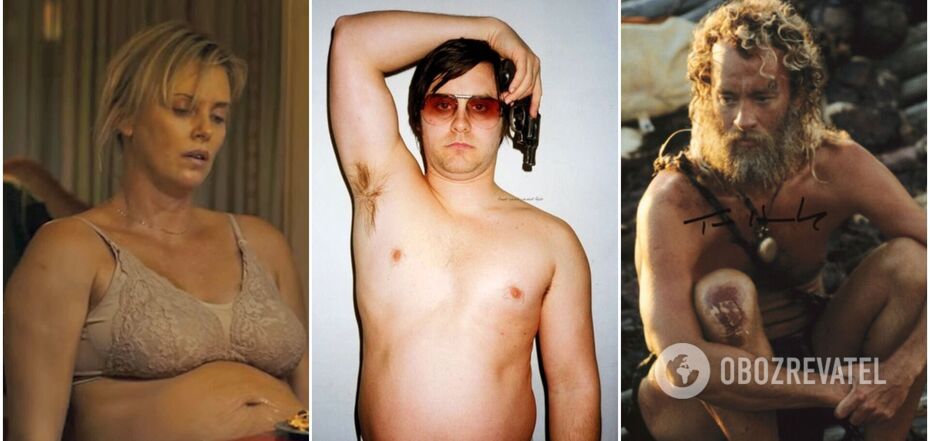 Charlize Theron, Jared Leto, Tom Hanks changed for movie roles
If someone thinks that acting is a fairy tale, where you can enjoy the privileges of popularity and make millions on a level playing field, he is deeply mistaken. Filmmaking is hard work, and often artists have to do the impossible, particularly with their own bodies, to get this or that role. Directors may require a short time to gain more than 20 pounds, or, conversely, to bind so that the ribs were translucent. And actors do not hesitate to go for these (sometimes very risky) transformations.
OBOZREVATEL decided to collect some of the most striking examples of transformation of stars in their movie characters by adding or losing weight. These dramatic changes helped them to get into the characters so reliably and accurately that they often won prestigious awards for their work, and rightfully so.
Christian Bale
Christian Bale has probably experienced the most transformation of his acting career. In 2004, he starred in the thriller "The Machinist". Bale's character suffered from insomnia, which led to a sharp loss of weight. During filming, the actor lost about 30 kilograms. After this, Bale was waiting for the main role in the movie "Batman. The Beginning," for which he had a short time to get back into shape and gain 43 pounds of muscle mass. Directors seemed to be so fascinated by watching the celebrity change that they did not stop torturing him, offering to play either overweight characters or too skinny. In 2018, he appeared in the movie "Power," for which he gained more than 30 pounds, and already in 2019, "Fort vs. Ferrari" was released, where Bale was in his usual form. According to fans' calculations, the actor has gained and lost a combined 274 pounds in a quarter century.
Matthew McConaughey
In "Dallas Buyers Club," Matthew McConaughey fantastically played AIDS patient Ron Woodroof, a man who defies the U.S. government to deliver unapproved drugs to other sick people. He lost 21 pounds for the role.
Jared Leto
The ever-young and skinny Jared Leto went to cruel and extremely dangerous lengths to play John The ever-young and thin Jared Leto went to cruel and extremely dangerous lengths to play John Lennon's killer, Mark David Chapman, in J.P. Schaefer's "Chapter 27." Leto gained about 30 pounds because he wanted to better convey his character's dense physique. By the end of filming, the extra weight affected the actor so much that he could not even walk to the set.
Charlize Theron
In 2003, Charlize Theron had to put on 15 kilograms to play in the movie "Monster". After the filming was over, she quickly regained her trim, slender body. But in 2018, the star changed dramatically again for the role in the comedy drama "Tully" and this time she gained as much as 23 kilograms.
Chris Hemsworth
Everyone knows this actor primarily as the mighty Thor from the Marvel superhero movies. However, to get the role of the superpowerful Scandinavian god from Asgard, Hemsworth had to work seriously on his body. In total, he gained 20 pounds, laying the foundation for physical development.
Perhaps more shocking will be a photo from the filming of "Into the Heart of the Sea", for which the actor has changed almost beyond recognition. Not without the participation of makeup artists, of course. Nevertheless, Hemsworth lost 15 kilograms.
Tom Hanks
The legendary actor for the lead role in the film "Cast away" at first gained about 23 kg. At this weight the creators of the picture filmed Hanks to the scenes on the island. After that he was given a year break to lose weight. He got rid of excess weight, and then threw another 25 kg, so as to accurately recreate the image of the man on the screen, who was on a desert island for more than 4 years. It is worth adding that the beard and hair - not fake. Hanks did not cut or shave for several months before filming.
Previously OBOZREVATEL showeв how the world-famous stars who have had plastic surgery would look like now, if they had not gone to a plastic surgeon in their time. Modern apps allow you to find out the answer to this question.
Only verified information in our Telegram channel Obozrevatel and Viber. Do not be fooled by fakes!