Trending:
Age takes its toll: how the actors of the movie "Pretty Woman" have changed after 33 years. Photo then and now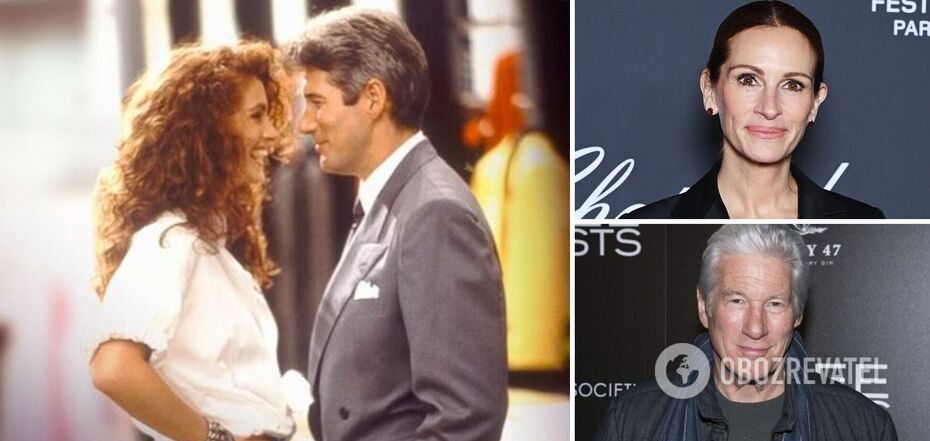 Age takes its toll: how the actors of the movie ''Pretty Woman'' have changed after 33 years. Photo then and now
It would seem that what can be common between a financial tycoon and a representative of the oldest profession? Despite their different status, living standards, and earnings, Edward Lewis and Vivienne are the people between whom a romance has flared up. In Harry Marshall's film, which was released in 1990, the life situation is presented without embellishment. The heroine Julia Roberts is not a stupid girl, but she chose the wrong way in life. And Richard Gere's character is a man in love, who helped her get out of her routine and realize her ambitions.
OBOZREVATEL wants to remember what Hollywood stars from "Pretty Woman" looked like 33 years ago. We also show how they changed and what they do now (to see the photos, scroll to the end of the page).
Julia Roberts as Vivienne
American actress Julia Roberts was only 23 years old when she was invited to star in a comedy melodrama. She gained the status of "Hollywood star" by playing in a cult film. After this, the actress became one of the highest-paid actresses of the 1990s and the first half of the 2000s. For the film "Erin Brockovich" and "Mona Lisa's Smile" she received a record at the time royalties - 20 and 25 million dollars. Roberts and her family now live in her penthouse in New York City and on a ranch in Tahoe. She also has a mansion in Malibu. Julia owns a film company called Om Red Films and is involved in charity work. On November 28, 2004, the independent beauty gave birth to her husband, cinematographer Daniel Modera, with twins, and on June 18, 2007, she gave birth to a son.
Richard Gere as Edward Lewis
At the time the melodrama was filmed, Gere was 40 years old. He is best known for his roles in films - "Looking for Mr. Goodbar", "Days of Harvest", "American Gigolo", "Officer and Gentleman", "Cotton Club", "Primal Fear", "Chicago", "Autumn in New York", "And Hachiko: The Most Faithful Friend". Now 73 years old, Richard is the father of many children and lives with publicist Alejandra Silva. The girl has given her lover two sons (2019, 2020).
Hector Elizondo as Barney Thompson.
Hector played a hotel manager who was very warm to Vivian. Elizondo made his television debut in 1963. During his film career, he starred in more than 140 films and television series. Director Harry Marshall took the star in all his projects as a mascot. The celebrity is now 86 years old, at the time of filming he was 54 years old.
Laura San Giacomo - Kit De Luc.
Laura played the girlfriend of the main character, who was also a girl of easy virtue. She is best known for her roles in Sex, Lies and Videos, Pretty Woman, as well as the TV series Fashion Magazine, Save Grace, and NCIS: SVU. San Giacomo's most recent project was in 2019. In November 2022, the actress celebrated her 60th birthday.
OBOZREVATEL recently showed how the stars of the TV series "Xena the Warrior Princess" look 22 years later. Lucy Lawless became a real star after work, Renee O'Connor was included in the list of the most beautiful celebrities, and Ted Raimi became interested in music. Read more in our story.
Only verified information in our Telegram channels Obozrevatel and Viber. Do not be fooled by fakes!