Trending:
Sweet braid with plum filling: how to make fluffy dough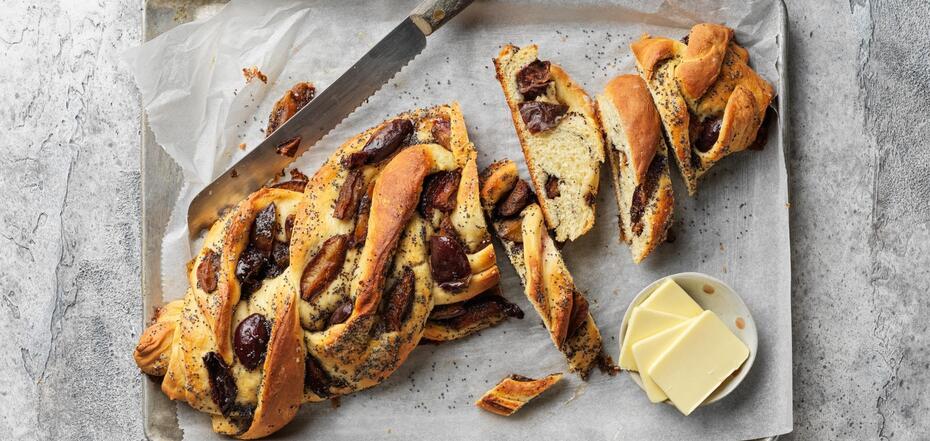 Fluffy braid with plums for tea. Source: fooby.ch
Instead of store-bought braid, you can make a flavorful homemade braid. Seasonal plums and cottage cheese are perfect for the filling. This pastry is perfect for tea.
The idea of making a sweet baked braid with plums was published on the Instagram page of food blogger Tetiana Yushina (_tanyushina_). The dough is very fluffy.
Ingredients for the dough:
350 g flour
125 ml of milk
50 g of sugar
0.5 tsp of salt
1 egg
20 g of pressed yeast (7 g of dry yeast)
50 g of butter
Ingredients for the filling:
250 g of cottage cheese
1 egg
30 g of sugar
10 g of vanilla sugar
30 g of cornstarch (or you can use vanilla pudding)
450 g of plums (weight with pits)
Ingredients for the glaze:
50 g icing sugar
juice of half a lemon
Method of preparation:
1. Dissolve the yeast in warm milk with 1 tsp of sugar without a slide.
2. Melt the butter, cool.
3. Sift the flour into a bowl, add the egg, melted butter, sugar, salt and yeast with milk.
4. Knead the soft dough. If you knead it with a mixer, it will take 5-7 minutes, if you knead it with your hands, it will take 10-12 minutes.
5. Put the dough to rise in a warm place for 1 hour, until it doubles in size.
Method of preparation of the filling:
1. Pit the plums and cut them into small pieces.
2. Grind the egg with sugar, vanilla sugar, add cottage cheese and starch, mix.
3. Add the chopped plums and mix.
4. Cover a baking sheet with baking paper or grease it with oil.
5. Roll out the dough into a rectangle about 30*40 cm.
6. Put the filling in the center of the rectangle.
7. Cut the side edges at an angle into 5-6 pieces and cover with a fly line.
8. Place on a baking sheet, cover with a towel and let stand for 15-20 minutes.
9. Preheat the baking sheet to 180 degrees.
10. Bake the braid for 25 minutes.
Method of preparation of the glaze:
1. Squeeze the juice from the lemon and mix with powdered sugar.
2. Cool the finished braid a little and cover with the glaze.
3. Cut the braid when it is completely cool.
You can also find more recipes on OBOZREVATEL: