Trending:
What the children of Boris Johnson, who has become a great friend of Ukraine, look like and what they do. Photo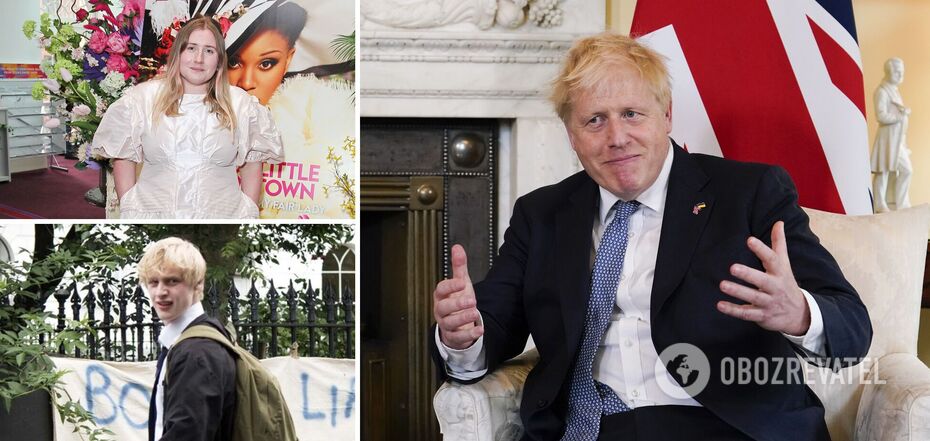 Boris Johnson's children
Everyone in Ukraine knows Boris Johnson's name. After the full-scale Russian invasion, the then British prime minister was one of the first to provide comprehensive assistance and support to our country, in particular by coming to visit Kyiv. The other day it became known that Johnsonuk, as the Ukrainians like to call the politician, was preparing to become a father for the eighth time. His third wife Carrie is due in just a few weeks.
This will be Boris and Carrie Johnson's third child together, but the former prime minister has four more adult children from his second marriage, as well as one illegitimate daughter. OBOZREVATEL offers to learn about each of them.
Lara Lettice Johnson-Wheeler (1993)
Boris's eldest daughter was born in his second marriage to Marina Wheeler, to whom Johnson had been married for 25 years. At the time, the future mayor of London, prime minister of Great Britain, and also a great friend of Ukraine was an ordinary journalist and wrote for the Daily Telegraph. Lara followed in her father's footsteps. He invested well in her education. At first, the girl studied at Bedales School in Petersfield for 33 thousand pounds a year, then successfully went to St. Andrews, where she studied Latin and literature. After graduation, the girl began working as a journalist: she was a freelance editor of British magazines Vogue and Tatler.
Milo Arthur Johnson (1995)
The lives of Boris Johnson's other children are more secretive. Little is known about Milo. At school he was a promising athlete: he played soccer and cricket. However, Johnson's son did not want to link his life with sports. He entered the School of Oriental and African Studies at the University of London. The boy knows many languages, including Arabic and French. For a while, Milo lived in Dubai. Where he is now is unknown.
Cassia Picez Johnson (1997)
Cassia received her secondary education at Highgate Private School, after which she went to Trinity College Dublin and then returned to London. Like her father and older sister, she was successful in journalism - she was editor of the school newspaper as a teenager. What Cassia does now is not exactly known, although in some articles you can see the box next to her saying "writer."
Theodore Apollo Johnson (1999)
No, that's not Boris Johnson as a young man, that's his youngest son by Marina Wheeler. The boy is incredibly similar to his father in appearance, though in everything else they are obviously very different. For example, Theodore went to Cambridge after graduating from private school, although his father went to his main rival Oxford. The guy has no social media, so nothing at all is known about his life.
Stephanie McIntyre (2009)
In 2010, journalists of The Daily Mail first suggested that Johnson had a daughter out of wedlock. At the time, the politician was the mayor of London. The information turned out to be true. A journalistic investigation led to the mother of the child - it turned out to be art historian Helen McIntyre, with whom Johnson was friends for many years. Apparently, the friendship grew into something more. Boris himself has not yet commented on the fact that he has a daughter out of wedlock. Nothing is known about the girl, except that her name is Stephanie.
Wilfred Laurie Nicholas Johnson (2020)
In 2021, Boris Johnson will marry political and environmental activist Carrie Symonds. She is 23 years younger than her companion. The couple officially legalized their relationship after they had their first child together, a boy named Wilfred. Shortly before that, the prime minister (at that time) was infected with coronavirus in a very serious form. The politician's life was then saved by doctors named Nicholas Price and Nicholas Hart. The boy was given a third name in honor of the doctors. Little Wilfred attended his parents' wedding in May 2021.
Romi Iris Charlotte Johnson (2021)
Already in December 2021, Boris and Carrie Johnson delighted the British with the news of another addition. They had a baby girl, who was named Romi Iris Charlotte.
And soon, 35-year-old Carrie will give birth to her husband another baby. Probably, it will happen in June of this year.
Earlier OBOZREVATEL wrote that Boris Johnson criticized the Russian propaganda's claim that Ukraine's joining NATO could be a provocation for Russia and called it "nonsense. He called on the Ukrainian government to begin the necessary preparations for joining the alliance as soon as possible.
Only verified information from us in the Telegram channel Obozrevatel and in Viber. Don't be fooled by fakes!