Trending:
"Ukraine is a small country": how STB show critic Sosedov bent over for the Kremlin and trashed Pugacheva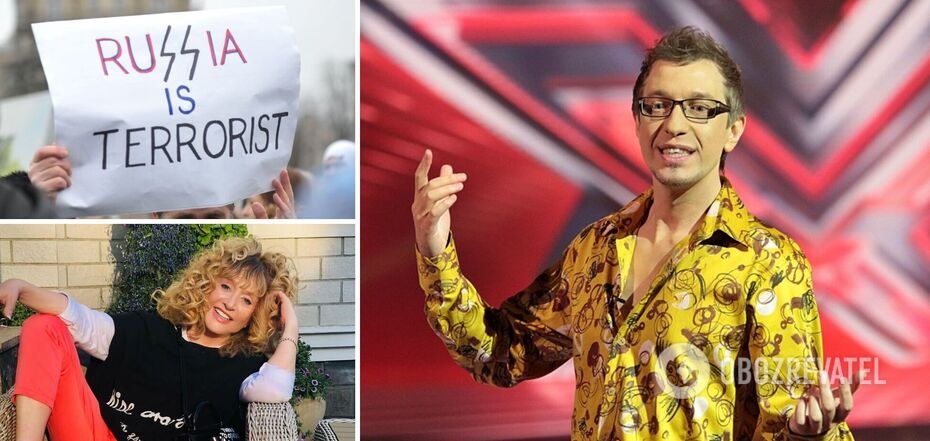 Sergey Sosedov supported the war and slinged mud at Alla Pugacheva
The notorious Russian journalist and music critic Sergey Sosedov, who for many years was a judge on Ukrainian singing shows such as X-Factor and Shans, now actively supports Putin's regime and the terrorist war in Ukraine. In addition, the Putinist does not get tired of badmouthing artists who have taken an anti-war stance. In particular, the singer Alla Pugacheva, whom Sosedov literally worshipped, has been hit several times.
OBOZREVATEL decided to recall the Kremlin buffoon's absurd statements about Ukraine and fellow opposition activists. Guided by ridiculous narratives from his propaganda manual, Sosedov takes great pleasure in running on federal channels and talking about "neo-Nazis" in our country.
The odious critic has lived in Kiev for many years. He was a member of the jury on X-Factor for five years - from 2010 to 2015. While making money, Sosedov did not notice the so-called "neo-Nazis" on the streets of the Ukrainian capital, but now he tells exactly such fables on RosTV.
Sosedov claims that he allegedly keeps in touch with some Ukrainian acquaintances, all of whom, according to the Putinist, dream of moving to the terrorist country.
"It is impossible to live in Ukraine. The propaganda there is so neo-Nazi, it's hellish. Goebbels rests," Sosedov told propagandists in an interview.
The Kremlin henchman generally insults Ukraine with great enthusiasm. Here, for example, is one of his statements: "Ukraine is a small country that has no independence, no nothing at all!"
For glorifying the aggression and atrocities of the Russian occupiers, Sosedov was put on Ukraine's sanctions list on 15 January 2023.
However, the critic praises not only the invaders, but also his colleagues who support the genocide of the Ukrainian people in every possible way. Sosedov admires artists such as Oleg Gazmanov, Grigory Leps, Larisa Dolina and so on. But all those who condemn the Kremlin's terror, according to the star, are "semi-educated" or even "undereducated" people who cannot even formulate their position. Sosedov thinks that they want to appear progressive by simply speaking out against what they don't understand.
The list of "uneducated" people also includes Alla Pugacheva. As you know, previously Sosedov considered her an icon of Soviet and post-Soviet pop music. Now he is in a hurry to pour mud on the diva.
"She must be completely out of her mind. When God wants to punish a man, he takes away his mind. "Supported the Soviet Union" - is she even out of her mind? The phrase itself is stupid. "I contributed" if only. And what did you contribute? Who were you supporting? You supported your lovers, your husbands, that's who you could support, but not the Soviet Union... I would ask her where she worked and her employer what her salary was and what her fees were - the question of who supported whom. In general, they were supported by the audience who went to their concerts. They were fools to go, of course, because there was nothing to see there, it's not the level of skill and artistry that one should see," said the Kremlin mouthpiece.
Sosedov also called Alla Pugacheva "an old woman who lacked wisdom" and accused her of "betraying the motherland".
Earlier, OBOZREVATEL wrote that Sosedov became a laughing stock on the net. An archived video of the critic singing has swirled online, prompting viewers to ask, "Who gave Sosedov the right to judge other people's vocals?"
Only verified information on our Telegram channel Obozrevatel and on Viber. Don't be fooled by fakes!