Trending:
Serdyuchka and her mother wearing anti-war T-shirts and TVORCHI gave an impromptu concert backstage at Eurovision 2023. Video.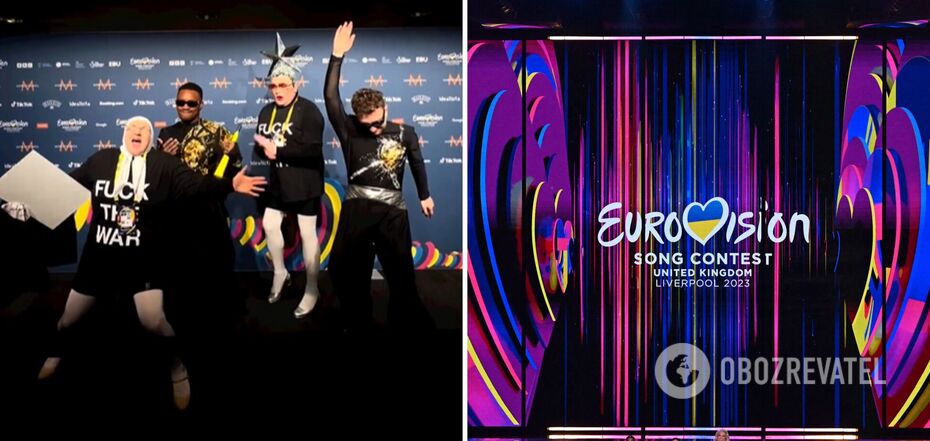 Serdyuchka with her mother in anti-war T-shirts and TVORCHI sang backstage at Eurovision Song Contest 2023
On Saturday, May 13, the grand final of the Eurovision Song Contest 2023 will start in Liverpool, where TVORCHI duo will compete for the crystal microphone for Ukraine. The show will also feature a number of well-known Ukrainian artists, including the legendary Verka Serdyuchka, one of the main stars of the contest in its history. Before the final, the Ukrainians have already managed to charge the audience with positive energy backstage.
Thus, Serdyuchka and her stage mother, played by Inna Bilokon, together with TVORCHI, staged an impromptu concert, singing the competition track by the duo Heart of Steel. The corresponding video was posted on the band's Instagram page (scroll to the bottom of the page to watch).
In the video, Jeffrey Kenny, TVORCHI's vocalist, sang the chorus of the competition song. He used a yellow pipe as a microphone, which he apparently borrowed from Serdyuchka. Meanwhile, Verka and her mother took over the dancing. Andriy Gutsulyak also joined their "show ballet".
"Let's be honest, we all understand who the main star of Eurovision is," the duo signed the video.
However, it was not only the impromptu concert by the Ukrainians that attracted the public's attention, but the T-shirts worn by Verka Serdyuchka and her mother. As you know, Eurovision has a position that they are apolitical, but the singer of the hit song Dancing Lasha Tumbai (which now sounds like Dancing Russia Goodbye) was not afraid to wear anti-war outfits.
Thus, Serdyuchka and her mother appeared at the competition site wearing their already famous black T-shirts with the words "F*ck the war".
It should be noted that OBOZREVATEL is broadcasting the Eurovision Song Contest 2023 online. All the key events of the broadcast are in our material.
We also introduced our readers to interesting facts about Eurovision. Among them:
- 19-year-old Romanian representative Theodor Andrei ended his performance with an anti-war call during the second semi-final.
- Eurovision often faces scandals over plagiarism. Read here to find out who was accused of "borrowing" someone else's song.
- What were the performances of the youngest and oldest Eurovision participants and what places did they take?
- Who has won the Eurovision Song Contest most often in its history and how many times has Ukraine won.
- Which Ukrainians have represented other countries at the song contest and what successes they have achieved.
Only verified information is available in our Obozrevatel Telegram channel and Viber. Do not fall for fakes!