Trending:
Oprah Winfrey, Winona Ryder, and more: five celebrities who have never been married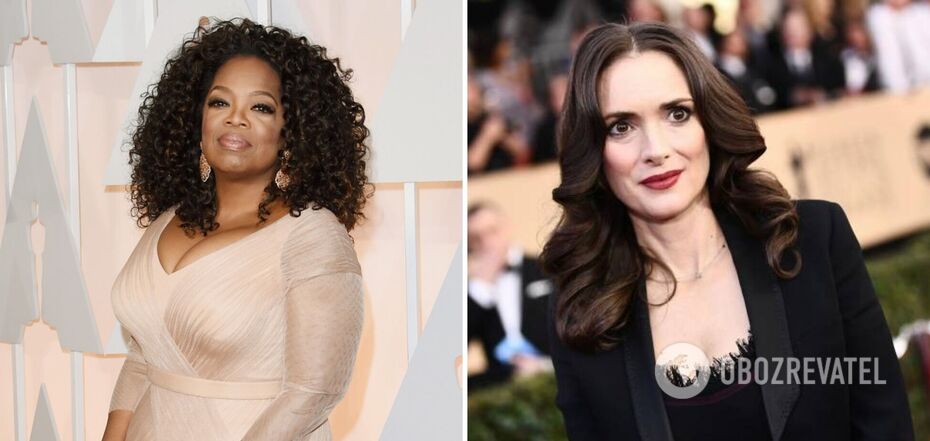 Stars who have never been married
The world's most famous women clearly do not suffer from a lack of male attention. They are successful, self-sufficient, beautiful and confident, but some of them have never worn a wedding dress, have never taken a vow to "love in joy and in sorrow" and have never called the man they love husband. However, this role of eternal bachelorette seems to be fully satisfied with them.
Leading by example, the celebrities prove that a woman does not have to get married and be the keeper of the family home to be truly happy and fulfilled. OBOZREVATEL tells about these world-famous beauties.
Oprah Winfrey
Oprah Winfrey, 69, is one of the most influential, rich, famous and successful women in the world. She is not only a talk show host, actress, producer, public figure, but also the owner of a movie studio and a named cable TV channel OWN: The Oprah Winfrey Network. Career has always come first for the star, and she has made no secret of it. From 1986 to 2000 Oprah met with an American businessman and teacher Stedman Graham, who proposed to her. The woman said yes, but it never came to the wedding.
"The moment I said yes to his proposal, I had my doubts. I realized that I wasn't really seeking marriage. I wanted to be proposed to. I wanted to know that in his opinion I was worthy of becoming his wife. But I didn't want the sacrifices, the compromises, the daily obligations that are part and parcel of marriage. My TV career has always been my priority - and we both knew that," Winfrey told her magazine already in 2020.
Charlize Theron
In her 47 years Charlize Theron can boast not only stunning success in the movie, as evidenced by the huge number of prestigious awards, but also impeccable appearance. One of the most beautiful actresses of Hollywood can fall in love with any man, which, incidentally, and does, but get married Theron does not want to. There have long been rumors online about her engagement to colleague Sean Penn, but the star has denied them.
"I never wanted to get married. I don't consider marriage anything important. I'm really interested in a long-term relationship - and I've had one. But the marriage ceremony itself has no value to me," the actress shared in an interview back in 2011.
Winona Ryder
Keanu Reeves, Matt Damon, Chris Noth, Johnny Depp - this is not a complete list of Hollywood sex symbols with whom Winona Ryder once dated. Moreover, the latter proposed to the actress, but, as you may have guessed, it did not come to the wedding. The breakup with the star of "Pirates of the Caribbean" and other cult films was very difficult for Ryder. She sank into a deep depression and only a few years later managed to start dating again. However, the topic of marriage for the celebrity has always remained closed.
"I would rather never be married than to be divorced several times. It's not that divorce is bad. It's just that I couldn't take that step. My own parents have been married for 45 years, and their example sets high standards. But I've been happy with one man for quite some time," the actress once told me.
Kristin Davis
One of the four girlfriends on the iconic show Sex and the City, Charlotte was the first to get married and build a happy family. But the performer of that role, Kristin Davis, never wore an engagement ring on her ring finger. The 58-year-old actress isn't bothered by it at all. She became a happy mother of adopted daughter Jamie. In addition, Davis does not rule out that she will meet her fate, but now she needs not only a husband, but also a father for her daughter.
"If I ever get married, my partner is bound to be so incredible that I want to introduce him to Gemma. I don't know if I consciously wanted to stay single forever, but I remember being puzzled when I was young, 'And why do all these people get married?" - shared in one of her interviews the celebrity.
Diane Keaton
Oscar, Golden Globe and BAFTA winner Diane Keaton, 77, has also never been married. At the same time she was in love with real Hollywood beauties: Al Pacino, Warren Beatty, Jack Nicholson and even Keanu Reeves. However, the actress has never sought a family and formal marriage. She does, however, raise two adopted children: daughter Dexter and son Duke.
"I'm attracted to men, and I like to "play" with them But living together? That's some other universe. You have to be someone who looks at life realistically and is willing to compromise. I am not capable of it, "- honestly replied Keaton in an interview.
Also OBOZREVATEL wrote about famous women who have lost their loved ones. Many of them still have not fully coped with the grief of the tragedy. The selection includes Meryl Streep, Marion Cotillard and others. All the details are in our material.
Only verified information on our Telegram-channel Obozrevatel and Viber. Do not be fooled by fakes!