Trending:
Olya Polyakova was hated because of her participation in LGBT Pride in London: the singer responded emotionally. Video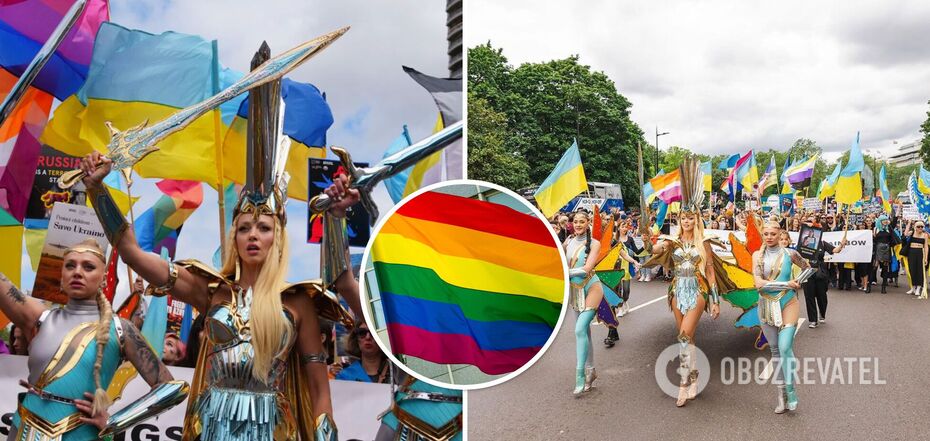 Olya Polyakova is hated because of LGBT march in London
Famous Ukrainian singer Olya Polyakova led the Ukrainian convoy at the 51st annual LGBTQ+ Pride march, which took place on 1 July in London, UK. Many Ukrainians were delighted with this gesture from the star, but as it turned out, some fans attacked the artist with criticism. The Queen of the Night did not remain silent and responded to the haters.
Polyakova admitted that she was threatened and wished to burn in hell for her position. However, this does not scare the celebrity. She continues to defend the rights of the LGBT community, explaining why it is important for a country that is moving towards European values. The singer posted an appeal to her detractors on her personal Instagram page (scroll to the bottom of the page to see photos and videos).
"I would like to say a big thank you to everyone who wrote nice words about the pride. Those who wrote negative comments are people from the past, from another life that no longer exists. But they don't feel it, they reflect, they write something, they write a lot, they argue, they threaten hell. These are people who simply do not have enough love in their lives, affection, tenderness, and positive things. They cover up their fears with God, with traditional beliefs that Ukrainians do not support this 'Satanism'," said Polyakova emotionally.
The artist emphasised that there are a number of other problems in Ukrainian society that should be addressed. According to Polyakova, only people who have no idea about morality and values can accuse LGBTQ+ people of "satanism".
"The truth of life is that Ukraine is still a country with an extremely high level of domestic violence, with the lowest level of empathy. Ukraine is still a country where it is dangerous to be a child and a woman, and the average man lives much less than in Europe. But this is not satanism - it is the norm. So let's leave all this talk about family values, God, and traditions in the comments. Because in real life, these are just words that you use to lie to yourself," the star addressed homophobes and other offenders.
Poliakova believes that Ukrainians must change, move forward and "get rid of savagery and stupidity". She reminded that among the LGBT community there were and are a huge number of brilliant scientists, talented musicians, actors, artists, writers, designers, architects, etc.
"They moved the world to a place where there is no pain, no resentment, but where there is beauty and love. For those who live in the past, who are intolerant and religiously concerned, I wish you human happiness. Be kinder!" - the star summed up.
It should be noted that the main message of the Ukrainian delegation at this year's Pride reflects one of the key requests. "Give us wings to protect our rainbow". The march's slogan was inspired by the historic visit of Ukrainian President Volodymyr Zelenskyy to London in February 2023, during which he repeatedly called for aircraft.
Polyakova appeared at the march as a warrior woman, the superheroine "Unbreakable", who fights for justice and human freedom in all its manifestations. The image was created by the designers of the MU PRODUCTION brand, who embedded powerful symbolism in every element of the singer's outfit.
Earlier, OBOZREVATEL wrote about the scandal surrounding the singer MELOVIN and comedians from the show Biografiya. The musician condemned them for harassing LGBTQ+ people on the show. Later, the stand-ups apologised to the artist. They said that the performer could have corrected the jokes on his own, rather than throwing the microphone and leaving.
Only verified information is available in our Obozrevatel Telegram channel and Viber. Do not fall for fakes!