Trending:
It's hard to look away: LP, Tilda Swinton, Lady Gaga and other stars with androgynous looks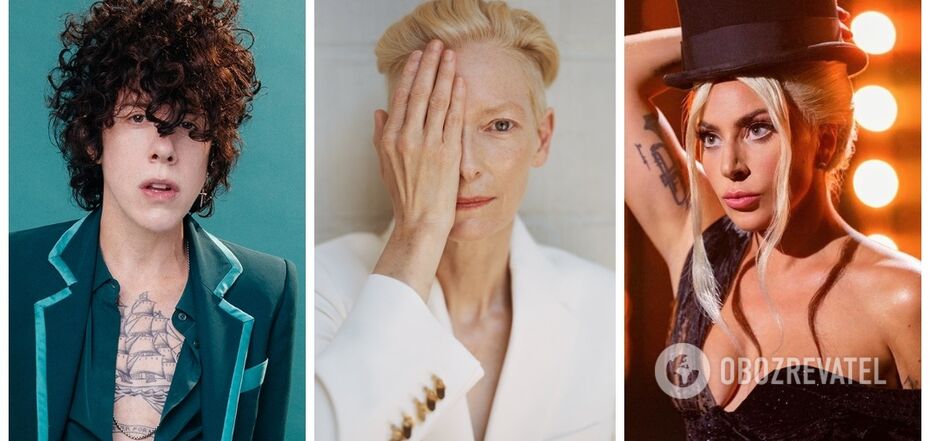 Stars with feminine and masculine facial features.
Androgynous people are people (men or women) who have the external features of both sexes. This type is a real find for designers and directors. They can adapt to any gender depending on the task at hand.
Find out which celebrities feel comfortable in both female and male roles. Read more in the OBOZREVATEL article.
1. Tilda Swinton
British film actress Tilda Swinton is tall (180 cm), has a pale complexion, short hair and a rectangular body type. Thanks to her unconventional appearance, she can play anyone: in the film Orlando, she appeared as a redheaded man who turns into a woman, and in the drama Limits of Control, she played a blonde.
2. Jared Leto
The American actor and frontman of the band 30 Seconds to Mars, Jared Leto, also decided to take advantage of his androgynous appearance (soft facial features). He has repeatedly appeared on the covers of fashion magazines with rich make-up and in women's dresses, and also played a transsexual in Dallas Buyers Club.
Jared uses cosmetics not only for on-screen characters. He can go on the red carpet with painted nails and eyes.
3. LP (Laura Pergolizzi)
The American singer-songwriter Laura Pergolizzi, aka LP, has a pleasant low voice timbre, a skilful whistle and... androgynous appearance. Sharp facial features, a thin build and masculine style of dress disguise her true gender. The celebrity considers herself gender neutral, stating in a 2018 interview: "I use 'she' and 'her', but I honestly don't like it. But it would be difficult to insist on 'they'."
It should be noted that LP's official biography uses the term "they".
4. Eddie Redmayne
British actor and model Eddie Redmayne has become one of the most sought-after actors in cinema. This is not only due to his convincing performance on the screen, but also to his unusual appearance.
Lots of freckles, plump lips, a gentle and naive look. Does it remind you of a woman's features? The directors of The Danish Girl noticed this too. They invited Eddie to play the role of the first person to undergo gender reassignment surgery. By the way, the plot is based on the real life story of Einar Wegener, a Danish artist of the 1920s.
5. Lady Gaga
The American singer and actress Lady Gaga is known for her strong voice and shocking images. She often shocks the audience with extravagant dresses and bright make-up. Imagine the surprise of her fans when, in an interview, the star admitted that she considers herself neither a woman nor a man, but gender neutral. Behind a pile of make-up, you can really see not only feminine but also masculine features. Moreover, Lady Gaga has a male stage persona - the aggressive Italian Joe Calderone.
Previously OBOZREVATEL wrote about the stars who did not want to be kissed on the set.
Only verified information is available in our Obozrevatel Telegram channel and Viber. Do not fall for fakes!