Trending:
How to wash a stretch ceiling to avoid stains: tips for housewives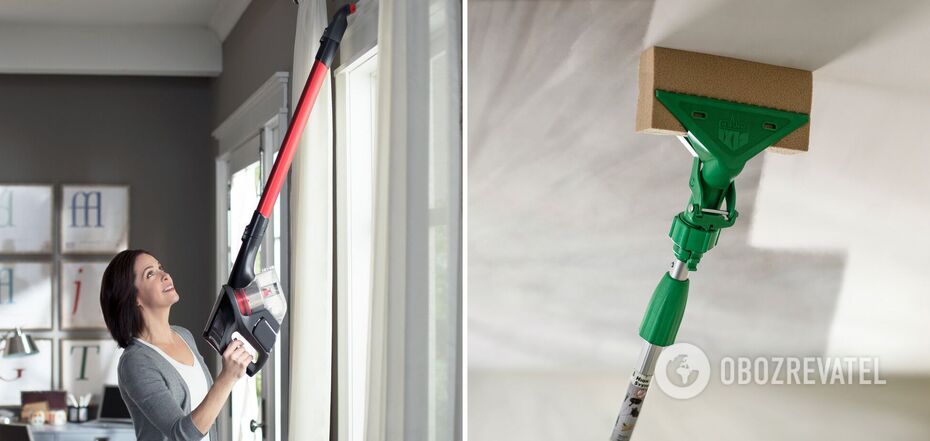 The main thing in cleaning stretch ceilings is a delicate approach
Among its other advantages, a stretch ceiling can boast of being quite easy to clean. Unlike plasterboard, which requires a lot of effort to clean. You just need to know the basic rules and approaches to washing a stretch ceiling.
OBOZREVATEL has collected some tips on this. And recommendations on products that will help with cleaning in this area.
How to wash a stretch ceiling
Regardless of what material the stretch ceiling is made of, it needs regular cleaning from dust and stains in order not to lose its properties. Before installation, the canvas is treated with antistatic, antibacterial and other impregnations, and they work best on a clean surface.
You need to clean the stretch ceiling in the rooms once every 6 months, in the kitchen more often - once every 2-3 months. The easiest way is to vacuum it with a soft furniture brush with low suction power. In all rooms except the kitchen, this will be enough. If the surface needs to be cleaned, you will need a sponge lightly soaked in detergent. Go over the entire ceiling in a circular motion, and then rinse off the remaining product with water to avoid streaks.
Whichever product you choose, be sure to test it on an inconspicuous area of the ceiling. For example, above a tall cabinet. This way you can make sure that your product is safe for the canvas. Just apply a little, leave it on for 5-10 minutes and rinse it off. If there is no yellowing or any stain on the cleaned area, feel free to wash the remaining ceiling with the chosen product.
After washing, the glossy ceiling must be polished with a dry cloth to avoid stains. With a matte finish, this step can be skipped. Fabric ceilings can be cleaned only in a dry way.
How to clean a stretch ceiling
Manufacturers usually recommend using specialised products for cleaning stretch ceilings. However, window cleaning sprays (for glossy materials) or weak soap solutions made from dishwashing liquid, washing gel and powder, or laundry soap are also suitable.
Dip the sponge in warm (not hot) soapy water, wring it out and use a mop to run it over the ceiling. Do not press hard so as not to damage the fabric. Perform the second treatment with clean water. If necessary, in the third step, wipe the ceiling thoroughly with a dry microfibre cloth.
What not to wash a stretch ceiling with
The material from which stretch ceilings are made is quite delicate, so abrasives such as soda or cleaning powders are not suitable.
Bleaches are also not suitable - neither chlorine-containing, nor oxygen-containing, nor any other.
Avoid any solvents, even if you notice stains on the ceiling.
Also, do not wash the ceiling with any undiluted soap. You are unlikely to be able to rinse off such a saturated product well and will get persistent stains and stains.
Earlier, OBOZREVATEL told how to properly clean dust at home.
Subscribe to OBOZREVATEL's Telegram and Viber channels to keep up with the latest news.