Trending:
How to choose the colours of clothes that suit you: secrets used by the stars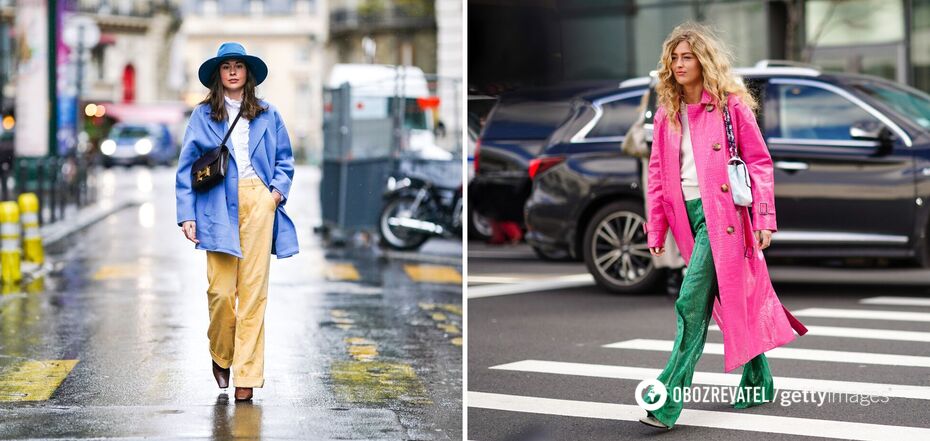 How to choose clothes colours
When we buy a trendy item that famous style icons and influential fashion influencers keep talking about its relevance, we imagine how we will shine in it, impressing all passers-by on our way. But the unexpected can happen: a dress, jacket or top that you placed such high stakes on doesn't fit. And if the problem is not in the style, quality and size, then it is most likely the "wrong" colour, or rather its incompatibility with your colour type.
The colour type of each beauty is determined based on the colour of her skin, hair and eyes. There are four of them in total: winter, spring, summer and autumn. For each of them, there is a palette of ideal colours that will emphasise beauty and make you look luxurious, as well as a list of unsuccessful shades that will make you look dull and unbalanced. All the details are collected in the OBOZREVATEL article.
Women with the Winter colour type:
dark hair shades - deep black or rich chestnut;
pale, almost porcelain skin;
deep shades of eyes from green and blue to dark brown.
Such beauties have a contrasting look and a bright appearance. Bright and cold colours are suitable for them, giving them a glow: snow-white, silver and cold grey, black, mauve and blue in cold tones, green and brown, chocolate also in cold shades or close to them, cherry and burgundy, ripe raspberry, coffee colour.
But warm shades of red-brown and yellow, as well as warm olive and earthy colours will look bad on a winter girl. They are not in harmony with the cold contrast of this colour type.
Women with the Spring colour type:
very light, thin, like porcelain skin;
hair shades are warm: golden blonde, light blond, honey, reddish tones;
eye shade is often light green, grey, light blue or light brown.
Women with the Spring colour type have a warm appearance and delicate appearance. For them, the ideal colour choices are light and warm shades: peach, pale orange, warm pink tones, scarlet, red, scarlet, powder, powder, gold, apricot, all green shades plus aquamarine and turquoise, brownish purple, gold, salmon, baked milk and linen, cream and beige tones.
An unsuccessful solution for a spring girl would be to use cold pink, snow-white, black and silver colours in her looks. These shades are not in harmony with the cold contrast of this colour type and can create dissonance in her appearance.
Women with the "Summer" colour type:
eyes of all grey and blue shades;
moderately pale skin with a pink or greyish tint;
hair of cold shades with an admixture of ash, often blond.
These ladies have a cool appearance and delicate skin tone. For them, pale pastel colours and shades with a cool undertone will be a great choice. Great options are blue, lavender, mint, powder pink, pale yellow and peach, as well as grey-white and pearl, burgundy, raspberry, marsala, cherry and purple.
But orange, carrot red, bright green, egg yolk, black and snow-white should be excluded from your wardrobe once and for all - they do not suit you.
Women with the Autumn colour type:
hair shades from honey red to dark brown;
warm eye colours, including amber, honey, warm brown with a golden tint;
pale skin with a pinkish tint.
Autumn beauties have a warm appearance and natural depth. For them, rich warm colours and shades with a hint of gold or honey are ideal choices. The colours that suit them are dark green, deep brown, dark orange, amber, olive, dark red, pale blue, greyish and bright blue, as well as yellow, orange, ocher, mauve and mustard.
It is not recommended to wear black and snow-white clothes with this colour type. It is better to give up soft pastel shades of pink and blue.
Earlier, OBOZREVATEL wrote about 5 colours in clothes that make all women slimmer.
Only verified information is available in our Obozrevatel Telegram channel and Viber. Do not fall for fakes!