Trending:
Drugs, alcohol, prison: the children of stars who disgraced their parents. Photo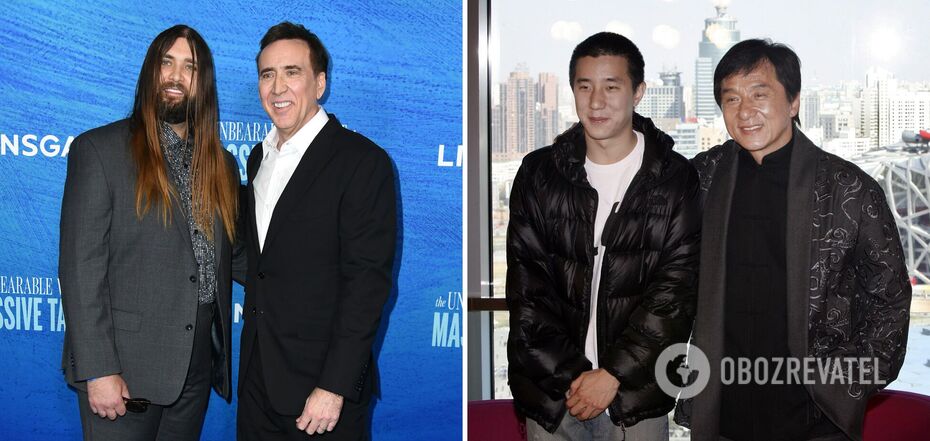 Children of stars who disgraced their parents.
Many people are used to mistakenly thinking that the children of celebrity parents are the lucky ones, because they are lucky to be born with a golden ticket to a life of luxury, influence, and fame. However, very often these kids are robbed of a truly happy and carefree childhood. The paparazzi follow them from diapers, controlling every step on their way to adulthood. As a result, a rebellion, which manifests itself in scandalous escapades and the use of forbidden substances. In some cases, these problems manifest themselves just because of the very luxury, in other words - permissiveness and inability to control their own desires.
In any case, to raise a decent man in these conditions - a difficult task. Most celebrity parents cope with it successfully, so proudly call their heirs the main achievement in life. But there are often cases when celebrities have to blush for their children. Today OBOZREVATEL offers to talk about such cases.
Jackie Chan and his son Jaycee
Jackie Chan is one of the most famous actors of our time. His son Jaycee is now 40 years old. He is involved in music and has even released several albums in North Chinese. But in 2014, the heir to a famous filmmaker ended up behind bars. It all started when Jaycee Chan was detained by Beijing police at his home. The cops found drugs in the guy's apartment. There was also a group of young people there, all high on drugs. The court eventually sentenced Jaycee to six months in jail and a $330 fine. The star father acted wisely and didn't "talk his way out of it.
Michael Douglas and his son Cameron
A similar story happened to Cameron Douglas. Now he is 44 years old and sometimes appears in movies, but in Hollywood he is more known as the scandalous son of Oscar-winning Michael Douglas and a former convict. In 2009, the actor's heir apparent went to prison for a felony - he was dealing hard drugs. The guy was caught red-handed in a hotel room in New York. Cameron was initially sentenced to five years in prison, but after they found several doses of heroin in his cell, they extended the sentence for another four and a half years. An influential father tried to influence the court's decision and get his son's sentence reduced, but all his attempts proved futile.
Tom Hanks and his son Chester
In the spring of 2015, the son of the legendary Tom Hanks put up a loud fight and trashed a hotel room, causing $1,800 in damage to the hotel. In the summer of that year, the boy, who was 25 at the time, suddenly disappeared for an entire month. The star father hired private detectives to find his wayward son. However, Chester showed up himself. As it turned out, the actor's heir was in rehab, where he was treated for drug addiction. He decided to take it upon himself to get rid of his passion for forbidden substances, and no longer shame the famous father. The boy had been using drugs since he was 16 and had done many shameful things while intoxicated.
Bruce Willis and Demi Moore's Daughter Scout
The middle daughter of world-famous actors Bruce Willis and Demi Moore is a fan of loud and spectacular performances. In May 2014, she decided to walk the streets of New York City naked. Scout walked into several stores in just her skirt, strolled through a park, and was certainly happy to pose for shocked public and paparazzi. She posted photos from her promenade to Instagram and captioned it, "It's legal in New York, but not on Instagram." As it turned out, she wanted to draw attention to the problems of social networking policy with regard to such "naked" photos.
Nicholas Cage and his son Weston
In 2011, the famous actor's son got into a fight with his trainer at a restaurant in Los Angeles because the trainer forbade Weston to order dishes that could harm his figure. The guy, who is the leader of a des-metal band, could not control his emotions and fists. He became so angry that he had to call a mental hospital. People in white coats arrived at the facility and took the aggressive son of Nicolas Cage with them.
Robert Downey Jr. and his son Indio
As you know, "Iron Man" has a dark past. His father was also an actor, and Robert Downey Jr. himself has been addicted to drugs since childhood. He was first introduced to illegal substances at just 8 years old! Since then, he has had a severe drug addiction, which was accompanied by constant arrests for drug possession, as well as jail time and treatment in a rehabilitation center. The actor was able to get out of this state and build a successful career, but to save his son from the same fate, he failed. Indio also used dope and was even arrested for its possession by the police.
Previously, OBOZREVATEL told the stories of some of the world's celebrities, whose biography has such a dark column as prison. Some of them ended up behind bars before they became famous, and some of them got into big trouble at the peak of their popularity. Read more in our story.
Only verified information in our Telegram-channel Obozrevatel and Viber. Do not be fooled by fakes!