Trending:
Don't do that! Three manicure mistakes that will make your nails look ungroomed. Photo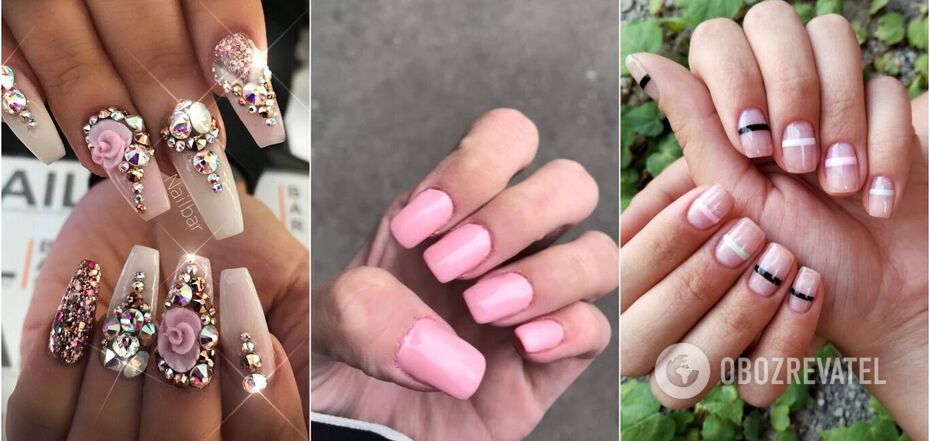 Manicure mistakes that will make your nails look ungroomed
An image always consists of details. Things that seem insignificant or unnoticeable to us can attract someone's attention, and here it is important in what context: negative or positive. So, untreated or tasteless manicure can ruin the impression of even the most stylish and elegant outfit.
A quality and beautiful manicure is not primarily about fashion, but about health. So OBOZREVATEL offers to remember the three mistakes in the world of nail art and never make them.
Unfortunate shape of nails
Not the most beautiful nail shape can be a congenital problem, but that doesn't mean it can't be corrected. For example, wide nails can be filed, narrowing them to the tips and thereby making them visually thinner and longer. In addition, you can achieve the same effect with the right shade of nail polish and design. The best option is to make a geometric design with the use of vertical stripes. And the use of horizontals, as you can see in the photo, will aggravate the situation and give the nails an ungroomed look.
Flashy design
If you are a fan of rhinestones and bright patterns - no problem. The main thing is never to forget that an abundance of everything is always a bad thing. Especially in manicure, where the last few seasons are dominated by minimalist trends. Neat patterns and judicious use of additional volumetric elements on the nails will not spoil your image, but the pretentiousness and the desire to make "the rich" can contribute to failure.
Poor manicure
Choose your nail technician carefully. Look not only at photos of his work, which can be improved with photoshop and filters, but also at videos. It's very easy to ruin good nails with a bad manicure. Untrimmed cuticles, or on the contrary, too much trimmed, crookedly filed nails - the problem is not only a lack of aesthetics, but also harm to health. And if you add to all this an unevenly applied bright nail polish, you get an explosive mix that you definitely don't need.
Earlier OBOZREVATEL told that square nails are once again at the peak of popularity. Punk design and french will look especially stylish with this shape. To find out the best coverage options for the square - go here.
Only verified information in our Telegram channel Obozrevatel and on Viber. Do not be fooled by fakes!