Trending:
Bipolar disorder, depression and more: Jim Carrey, Amanda Seyfried and other stars with mental illness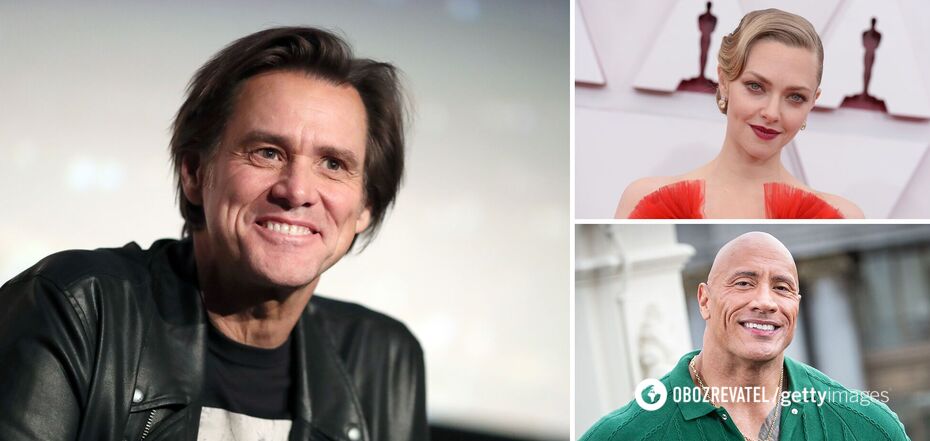 Celebrities who urge not to be silent about their inner state.
Some celebrities talk openly about mental health problems. For example, depression, anxiety or bipolar disorders. This is their way of combating the stigma associated with such illnesses.
Dwayne "The Rock" Johnson, Emma Stone and other stars use their public image to support and inspire millions of people who are complex because of their diagnoses. Read more in the article by OBOZREVATEL.
Amanda Seyfried.
American actress, singer and former model Amanda Seyfried, after completing the filming of "Mean Girls," where she played the lead role, found out that she had anxiety and obsessive-compulsive disorder. The agent persuaded the girl to keep the diagnosis a secret, because publicity "could harm the reputation. Amanda didn't listen to him. "I want children with diseases like mine to be supported by society," the celebrity said in an interview.
2. Dwayne "The Rock" Johnson
American actor as well as famous wrestler Dwayne Johnson regularly reaches out to his followers on Instagram, where he talks candidly about his journey to overcome depression. He stresses the importance of support and open dialogues about mental health to help people with similar problems: "I've been working for years to get the emotional tools to work with mental health issues... The most important thing you can do is talk to someone. You can't fix it if you keep the pain inside. Having the courage to talk to someone is your superpower."
3. Emma Stone
American actress Emma Stone, one of the highest-paid movie stars, also speaks openly about mental health problems. During one interview, the girl talked about her first panic attack when she was seven: "It was terrible and shocking. I went to a friend's house. Suddenly I thought the house was on fire. Burning to the ground. I was just sitting in my bedroom, and obviously the house wasn't on fire. But then I thought I was going to die."
In her interviews, the star stresses that it is worth seeking help and support, and that you should not be shy about talking about your own emotional state.
4. Jim Carrey
Canadian-American actor, comedian and artist Jim Carrey hid a struggle with depression behind a radiant smile for many years. Since childhood, he suffered from attention deficit hyperactivity disorder, and later his condition worsened from problems in his personal life. The real test for the actor was the suicide of his beloved Catriona White. After that, Jim went to a psychotherapist to begin his treatment.
5. Demi Lovato
American actress, singer and musician Demi Lovato was treated at a psychological help center for three months in 2010. The cause was depression and bipolar disorder, which she continues to struggle with to this day.
"I have been dealing with depression and suicidal thoughts since I was seven years old. Please don't take this lightly. I'm grateful to have the support of my team to help me through this time. I just want you to know that you too can go through it... Just as happiness can be fleeting, so can sadness. So, we have to keep that hope alive, and we just have to keep fighting to succeed," Demi told The Zane Lowe Show (Apple Music).
OBOZREVATEL previously wrote about Ben Stiller, Hugh Jackman and other celebrities who have been diagnosed with cancer.
Only verified information on our Telegram-channel Obozrevatel and Viber. Do not be fooled by fakes!