Trending:
Senate Republican leader pushes for package vote for Ukraine and Israel aid - media outlet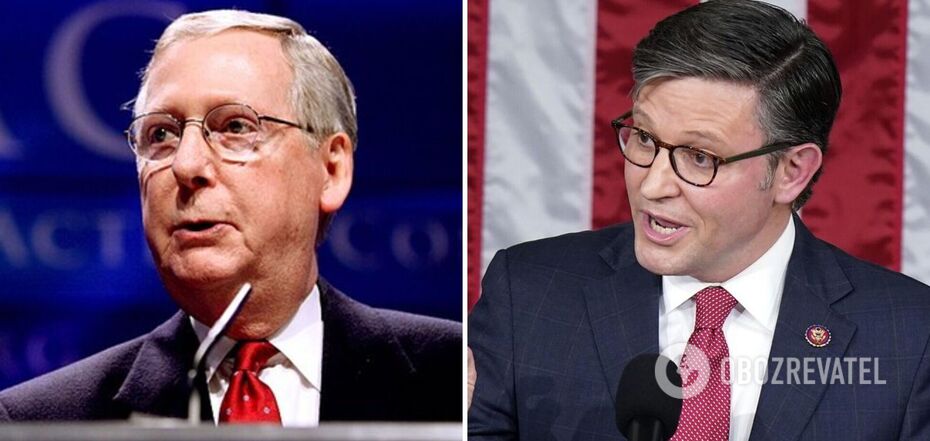 Senate Republican leader pushes for package vote for Ukraine and Israel aid - media outlet
Senate Republican Leader Mitch McConnell insists that military aid to Ukraine and Israel should be bundled in one package. He is opposed by the new Speaker of the House of Representatives, Mike Johnson, who wants to divide the funding rather than adopt a single package of national security measures.
This is reported by the American media. According to Politico, McConnell "is doing his best as Ukraine struggles with a split Republican Party."
In particular, it is noted that McConnell is facing growing dissatisfaction among Senate Republicans who are deciding whether to support him or side with conservatives who want to change their strategy on Ukraine.
"McConnell's efforts to lobby publicly and privately for tens of billions of dollars in aid to Ukraine are a sharp departure from his usual more restrained approach to consensus building. He will go to great lengths to win over resistant GOP senators and is on track to clash with the new speaker," Politico writes.
On Monday, McConnell will appear with Ukraine's ambassador to the United States, Oksana Markarova, at the University of Louisville to re-commit Washington to defending Kyiv against Russia, a striking move amid intra-party tensions, the article says.
This moment is almost certain to be the last battle in Congress to help Ukraine before the US presidential election, the newspaper writes.
"He (McConnell - Ed.) lived through the Cold War era and deeply believes that this is the moment in history when the United States needs to assert leadership. And if we don't, the consequences will be very serious. We have a number of our members who do not support funding for Ukraine, even though the vast majority understand the need for it," said Senate Minority Member John Thune, who wants to reduce the size of the package but otherwise agrees with McConnell.
Johnson, for his part, has previously said that a separate bill on aid to Israel will be introduced in the House of Representatives this week.
The Hill notes that although institutionally the Republican leaders in the U.S. House and Senate are "doomed" to cooperate, the difference in views between McConnell and Johnson is so great that it is easier for McConnell to cooperate with the leader of his political opponents, the Senate Democrats, Chuck Schumer, than Johnson.
As a reminder, a number of Republicans oppose combining aid for Israel and Ukraine in the request for additional funding of $106 billion from the Biden administration.
According to The Wall Street Journal, there is widespread support among Republican senators for aid to Israel, but less support for Ukraine.
Democrats have a majority in the Senate, but they need Republican votes to approve a large package of additional funding, and some Republicans are considering blocking the vote, Politico reports.
As reported by OBOZ.UA, the day before Mike Johnson confirmed that US aid to Ukraine and Israel would be divided. The decision will be made by two different bills, not by one, as previously expected.
Earlier, Biden requested $106 billion from the US Congress for additional funding for Ukraine and Israel. 61 billion of it is planned to be allocated for Ukraine's defense, and the rest is to be divided between Israel, the Indo-Pacific region, and the Border Guard Service.
Only verified information is available on the OBOZ.UA Telegram channel and Viber. Do not fall for fakes!