Trending:
Ukraine has developed the Toloka TLK-150 underwater drone, which will be highly maneuverable - Naval News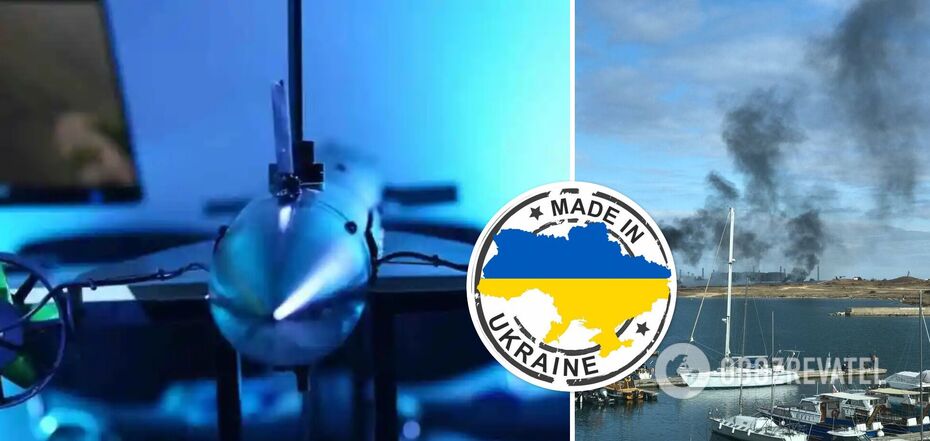 Ukraine has developed the Toloka TLK-150 underwater drone
Ukraine is increasingly gaining a reputation for innovation and ingenuity in national defense, namely drone manufacturing. Faced with a full-scale Russian invasion, many inventors and small businesses are getting involved in creating new drones to fight the enemy.
Among the latest developments is the innovative underwater drone or Toloka TLK-150 unmanned torpedo. Its characteristics as a weapon against the Russian Navy, were described for Naval News by OSINT analyst and naval expert HI Sutton (to see the photo, scroll to the end of the news).
"Ukraine is increasingly known for using unconventional maritime drones against the Russian navy. It was such UAVs, which are robot boats loaded with explosives, that helped set off the war in the Black Sea. Now a new maritime drone, which operates like a small submarine, has been introduced," the author noted.
He emphasized that the Ukrainian government is doing its best to harness the creative potential of developers and bring it together in an effective and coordinated way. To manage this, the innovative military cluster Brave1 was recently created, a joint initiative of several ministries, the General Staff and the National Security and Defense Council.
The Toloka TLK-150 drone was one of the new weapons introduced at the official launch of Brave1. According to an HI Sutton analyst, it is of particular interest from a naval perspective.
The expert noted that Ukraine has already made significant strategic advances, pushing the Russian fleet, which initially dominated the northern Black Sea, to defend itself. The threat of anti-ship missiles like those that sank the cruiser Moscow has pushed the Russian fleet over the horizon. And innovative armed, crewless unmanned surface vehicles (USVs) have forced Russian ships to remain locked in their ports.
At the same time, the resulting void in the northern Black Sea is far from being a Ukrainian lake, says a naval expert.
"The Russians can still operate there to launch missiles or support ground operations if the need arises. And Ukrainian ships, even small ones, can be shot down by Russian aircraft. So naturally Ukraine is developing robotic submarines, formally known as unmanned underwater vehicles (UUVs)," HI Sutton pointed out.
Toloka TLK-150 characteristics
We are talking about the first domestic BPA in Ukraine. Its design is non-traditional: it has larger stabilizers than other BPAs and much wider space for propellers. According to HI Sutton, this may not be a bad thing and shows that such a drone is not just a copy of what it used to be. It is an addition to the weapons that already threaten the Russian fleet at its main base in Sevastopol.
The TLK-150 is a fairly small drone, only 2.5 meters long. What the analyst says is unusual is that this drone has dual thrusters mounted on small wing-like stabilizers and a large keel. Combined with a separate rudder and forward dive planes, this should give the BPA excellent maneuverability.
In addition, the drone has a very high mast with cameras and communication devices. The keel could be designed to balance it. It is also possible that it could be used as a periscope for intelligence gathering missions near the enemy coast. It could also help the operator with navigation and targeting during attacks.
The HI Sutton analyst noted that the Brave1 initiative also introduced designs for two larger BPAs. This is the TLK-400, which is more than twice as long at 4-6 meters. It has a much larger diameter hull, which suggests a longer range and payload. Also known about the TLK-1000, which will be up to 12 meters long and with four engines.
It is not yet clear whether these Ukrainian underwater drones have already been built. But according to Militarny, the TLK-150 drone will be equipped with an electric motor, will have a 100 km range and the ability to carry up to 20-50 kg of explosives. The TLK-400 will get 500 kg of explosives and a range of 1,200 km. And the 4-12-meter TLK-1000 with a range of 2,000 km will be able to carry up to 5,000 kg of explosives.
It is stated that such a BPA can remain on standby for up to three months. In case of jamming the device identifies the jamming area. It automatically scans the area with a 3D sonar, a hydrophone, and a camera. It will help make mine maps for mine clearance.
Drone targeting system uses GPS or works with inertial navigation system in the absence of GPS (underwater) or during the jamming signal.
The vehicle identifies targets through video cameras and thermal imaging cameras, as well as visually with the help of a neural network. The guidance system includes passive sonar - identifying and bearing underwater and surface objects using a system of hydrophones.
Also included are ultrasonic sonars (active sonar) at close range. Bearing and identification by size of objects.
As reported by OBOZREVATEL, in January 2023 the state concern "Ukroboronprom" successfully tested a new strike UAV with a range of 1000 km. Also, the company has moved to the classified stage of production of these drones of its own production.
Only verified information on our Telegram channel Obozrevatel and Viber. Do not be fooled by fakes!