Trending:
Virgin Atlantic's "luxury suites" appeared on its planes: what business class plus seats look like. Photo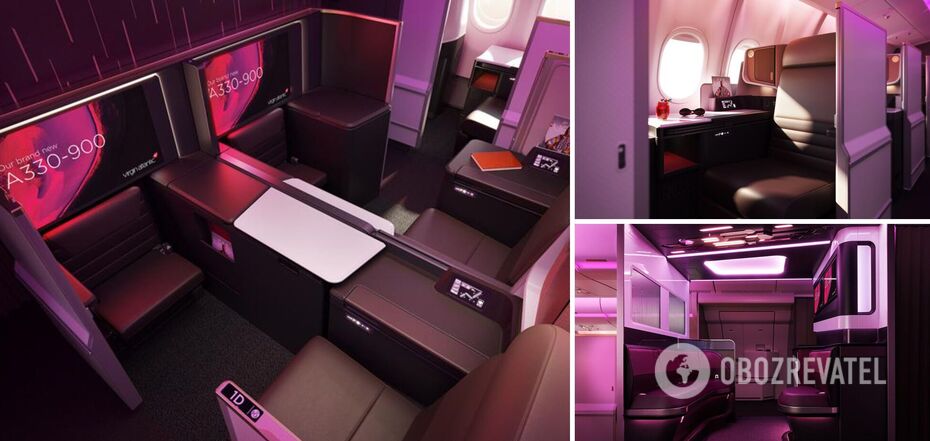 Deluxe seats are designed for entertainment and can be converted into a bedroom or restaurant.
Virgin Atlantic is famous for its solutions for the comfort of business class passengers. When it announced that the upgraded Airbus A330 - A330-900neo aircraft would have improved not even seats, but entire rooms, everyone wondered how they could make the flight even more comfortable.
And now Forbes magazine has photos of these suites - they have been available to passengers since October. Inside the cabin of the Airbus 330, due to the narrow fuselage of the plane, it was necessary to arrange a rather complicated structure of seats. But for each seat a full-fledged door was installed.
In addition, the cabin has a new Retreat Suite - seats in so-called Business Class Plus. This service is now gaining popularity and is gradually replacing first class. The Virgin Retreat is now one of the cheapest premium class options. To fly in such a "room" costs from 9000 UAH at the current exchange rate in one direction. For that, the passenger gets two seats, which can be turned into a full two-meter bed, as well as a 27-inch touch screen with Bluetooth connectivity and wireless charging. In addition, the room can be turned into a mini-restaurant with ottoman seats that can seat up to four people.
The Airbus 330neo also accommodates 30 new suites of the highest class. Among other amenities, they offer passengers three ways to charge their gadgets - wireless, USB A and C ports, and a standard power outlet. There is also the option of combining the phone with a 17.3-inch touch-screen TV. After the passenger turns on the "Do Not Disturb" sign on the door, he or she will be free to dive into the world of his or her favorite entertainment.
At the same time, the airline's award-winning social space, The Loft, has been upgraded for the A330. The lounge can seat eight people on four small sofas. Passengers can watch something on the dual panoramic 27-inch touchscreen or grab a snack from the new self-service refrigerator and beverage dispenser.
Previously OBOZREVATEL showed what a secret bedroom looks like for the staff of the Boeing 777 on long-haul flights.