Trending:
Top 7 things you should never put in the microwave: they can catch fire, spoil or taste bad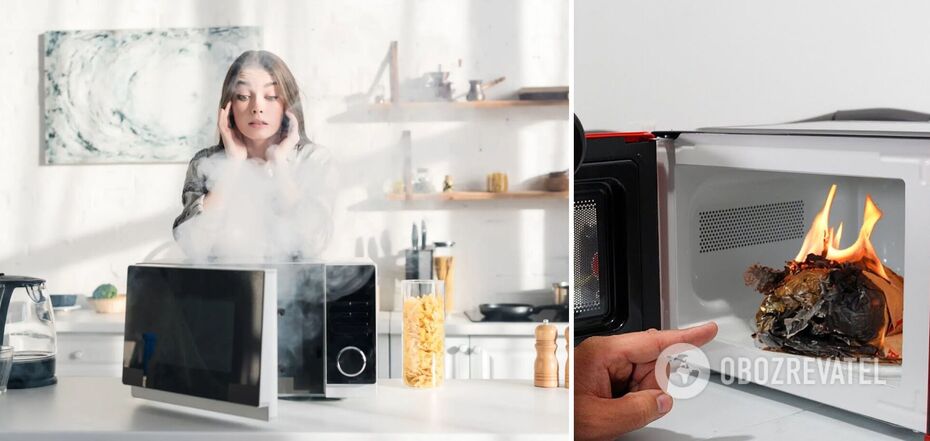 Some foods in the microwave can lead to a small disaster in your kitchen
Microwave ovens have become such a part of our lives that we all know exactly how to use them to heat food or defrost food. We also know from the instructions that you should never put metal objects, foil or crockery in the microwave, even with minimal metalwork. But what things and foods in the microwave can lead to a small disaster in your kitchen.
OBOZREVATEL tells you about the rules for using a microwave that are not spelled out in the instructions.
Containers for fast food
Yes, warming up the leftovers of the ordered fast food in the microwave is the best and fastest way. But the question is whether you should do it in the container in which the delivery service brought it to you. Even if the packaging looks like paper, you can't be sure that it doesn't hold its shape due to small metal particles. And this can cause problems. So it's best to put your food in a microwave-safe container.
Ties and staples
Many semi-finished products come in packages with ties or staples. Even if the ties look like plastic, they have an iron base inside. So if you see them, simply remove them before putting the package in the microwave. The same applies to tea bags, which sometimes come with an iron clip.
Eggs, nuts and seeds in their shells
If you put an egg in the microwave, you may be in for an explosive surprise, as the steam that builds up under the shell will simply tear the egg apart. The same goes for nuts and seeds in their shells.
Popcorn
This warning applies only to regular popcorn, not to popcorn that comes in special packages and is intended to be heated in the microwave. If you put regular popcorn in a paper bag, it could cause a fire in the microwave.
Grapes and other berries
Experiments with heating grapes in the microwave may be funny when you see them on videos on the web, but it's best not to repeat this at home, as the result can be not only explosive, but also lead to a fire.
Bread and fries
Yes, it sounds strange. But if you're hoping to get a delicious and crispy crouton by putting bread in the microwave, prepare to be disappointed as it will become soggy and soft after heating. Instead, use the oven or a frying pan.
The same goes for fries. If you want them to stay crispy, forget about the microwave.
Milk and infant formula
In theory, you can use the microwave to heat milk or infant formula. However, the problem is that it will be unevenly heated, which may result in the baby's food not tasting very good, or even dangerous as the baby may burn himself.
You can, however, heat the formula in the microwave, but you need to shake it well and let it stand for a minute. After that, try it yourself and make sure it's safe to give to your baby.
Earlier, OBOZREVATEL talked about how to make microwave food tastier.
Only verified information is available on our Obozrevatel Telegram channel and Viber. Do not fall for fakes!