Trending:
Simple chocolate pie: easier than any cake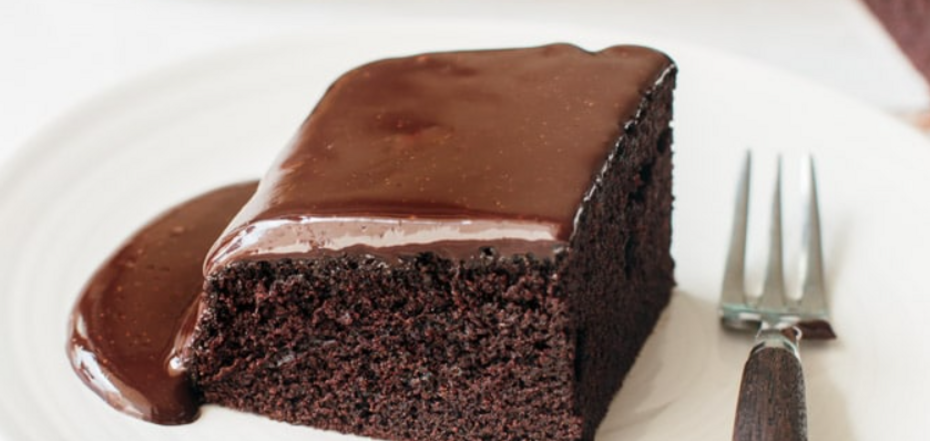 Quick chocolate pie
If you want to make a delicious dessert quickly, this chocolate pie is the perfect option. The dough for this dish is rare, so you just need to pour it into the mold - you don't have to knead anything for a long time. The sweet chocolate glaze is especially delicious.
The idea for making chocolate pie instead of a cake was posted on the Instagram page of food blogger Daria with the nickname recepti_dariko.
Ingredients:
2 eggs
180 grams of powdered sugar
220 g milk
100 g vegetable oil without flavor
+/- 270 g flour
40 g cocoa
1.5 tsp. baking powder
vanilla on the tip of a knife
Ingredients for the soaking:
200 g of milk
40 g condensed milk
Ingredients for decoration:
ready-made chocolate icing
50g of butter
2 tbsp of hot water
40g of nuts
Method of preparation:
1. Beat eggs with powdered sugar, add vanilla, butter, milk, and beat well with a mixer.
2. Mix flour, cocoa, and baking powder separately. Sift into the dough in several passes.
3. Mix either at low speed with a mixer or with a spatula. Pie dough does not like long whipping, so do it carefully but quickly.
4. Pour the dough into the mold (it is best to take 22-23 cm - the cake will be higher).
5. Bake for 40-45 minutes in a preheated 180-degree oven. Check for doneness with a toothpick.
6. Take the pie out of the mold, pierce it many times with a toothpick for better impregnation.
7. Soak the cake with a mixture of warm milk and condensed milk. When the surface is dry, cover it with icing. Dry the nuts in a frying pan, chop them, and sprinkle them on top of the cake.
Also, you can read the recipes on OBOZREVATEL: