Trending:
"Road to disaster": Prigozhin publicly refuses to obey Putin for the first time, Medvedev hysterics over "mutiny"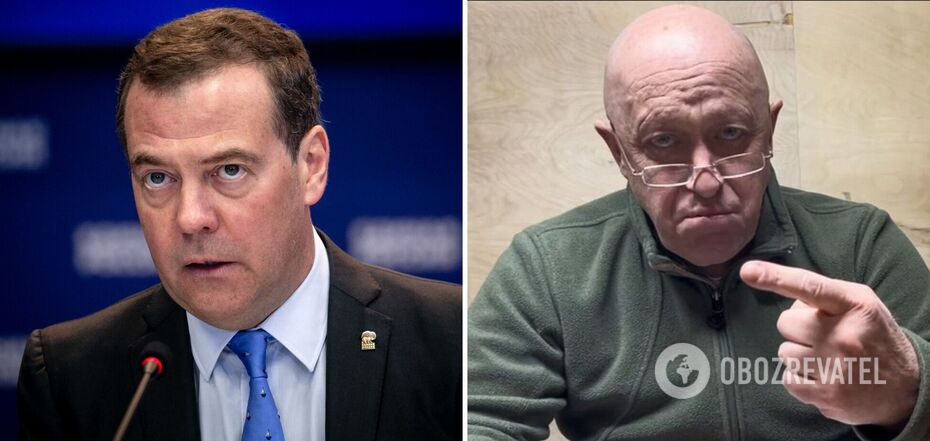 Former Russian president urges Russians to rally around Putin
Dmitry Medvedev, deputy chairman of the Russian Security Council, threw a tantrum over the mutiny in Russia by Yevgeny Prigozhin, the owner of the Wagner PMCs. He urged Russians to rally around Russian President Vladimir Putin and called the "split" the road to "disaster. For his part, Prigozhin for the first time publicly refused to comply with the Kremlin head and said that "no one is going to come forward to surrender at the request of the FSB president.
Thus, Medvedev, in his Telegram channel, urged the Russian Federation to "unite" around Putin in order to defeat "the external and internal enemy that is hungry to tear" Russia apart. "Divisiveness and betrayal is the path to the greatest tragedy, a universal catastrophe. We will not allow it. The enemy will be defeated! Victory will be ours!" - assures the former president of the aggressor country.
At the same time, Prigozhin's press service released an audio recording of another of his statements, in which he categorically refuses "to turn himself in":
"On the subject of betraying the motherland, the president is deeply mistaken. We are patriots of our country, we have fought and are fighting, all the fighters of the PMC Wagner, and no one is going to surrender at the request of the FSB president or anybody else, because we do not want the country to continue to live in corruption, deceit, and bureaucracy.
He added that Wagner had previously fought in Africa when "we were told we needed Africa". And then it was "abandoned because they stole all the money that was supposed to go to help".
"When we were told we were at war with Ukraine, we went and fought, but it turned out that the supplies of arms, all the money that was put in, were also stolen, and the bureaucrats sit back and save it for themselves, just for the occasion that came today, when someone goes to Moscow," Prigozhin said.
Now, according to the head of Wagner, the Russian authorities "do not save anything" - they "hit the columns with planes and helicopters where civilians are going", "they hit the civilians because they do not hit them and they hit wherever they can".
Complementary...