Trending:
Never feed an onion with this: what can ruin a crop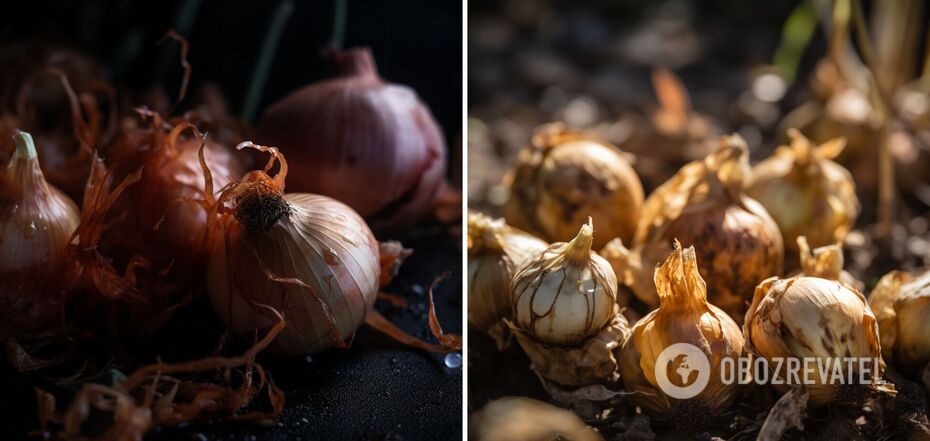 How to choose the right fertilizer for onions
Onions are among those vegetables all parts of which are consumed. Therefore, it is important to keep the whole plant healthy and nutrient-dense. However, the wrong approach to onion nutrition can spoil at least one of its parts - feathers or the bulb itself, and even the whole crop.
OBOZREVATEL looked into how not to make a mistake when choosing fertilizer for onions. And tells about unsuccessful and good options.
Bad and dangerous fertilizers
All kinds of herbal decoctions and infusions will not benefit the vegetable. Particularly unfortunate choice would be nettles. It excessively enhances the growth of feathers and will not be useful to the bulbs in any way.
An excess of nitrogen fertilizer spoils the whole plant at once. The green onion becomes brittle and less juicy from this, and the underground part loses flavor.
Milled humus is a bad choice at the stage of planting onions in the ground. It cannot provide the vegetable with enough potassium, phosphorus and other nutrients. Therefore, the bulbs will grow small and will not store well. So it is advised to add humus to the soil in advance - 1-2 months before planting.
Ammonia alcohol is another unfortunate substance for the treatment of onions. It burns the entire underground part of the plant, which can irrevocably ruin the harvest.
Which fertilizers will benefit onions
Good mineral fertilizer for vegetables can be obtained by mixing urea (10 g), superphosphate (30 g) and potassium chloride (5 g) per bucket of water. This amount should be enough per square meter of bed. This fertilizer is good at the early stage of plant development, and also at the end of June.
Two weeks after the first application of the fertilizer described in the previous paragraph, it is good to feed onions with nitrophoska. For 10 liters of water you will need 2 tablespoons of the substance.
You can also make a dry fertilizer based on ash. For two cups of dry mass, add one teaspoon of ground red pepper and one teaspoon of tobacco dust. This mixture is spread evenly over the bed of onions.
Previously, OBOZREVATEL told you which vegetables will crop well, regardless of the soil in which they are planted..
Subscribe to OBOZREVATEL channels on Telegram and Viber to keep up with the latest news.