Trending:
It's not like that: what the first YouTube video looked like 18 years ago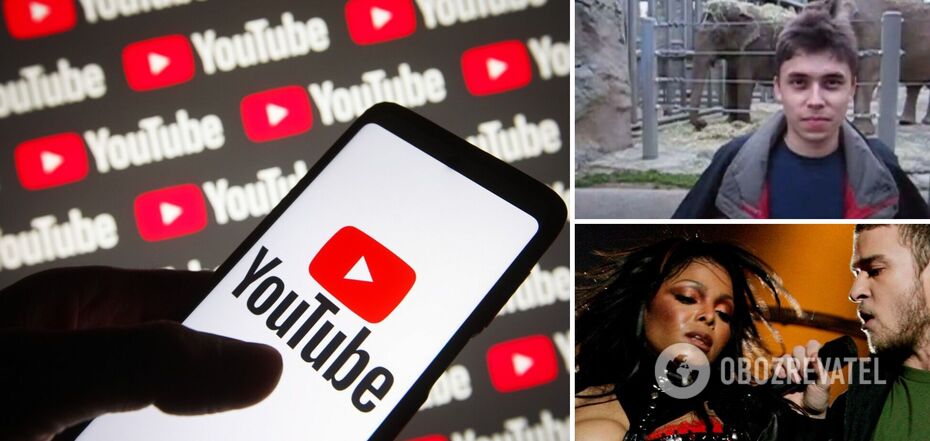 Jawed Karim invented a video service for everyone when he missed a hot moment in the Super Bowl final
Since its launch in 2005, YouTube has evolved from a niche site where everyone shared their videos to a hugely popular video service where everyone can find something they like: music videos, entertainment shows, educational videos, film premieres - you name it.
But 18 years ago, it was not like that at all, and the first video on YouTube was not a collaboration of super-popular artists, as it would be now, but a short video about a trip to the zoo, which nevertheless became historic.
OBOZREVATEL recalls the story of the first YouTube video and explains how it turned into a symbol and even a tool in the fight against Google.
I'm at the zoo
On April 23, 2005, the first ever video appeared on YouTube, which had barely launched. It could hardly be called cinematic or exciting, and it's hard to find a better description for it than "mundane".
The video, titled Me at the zoo, was filmed at the San Diego Zoo in California and lasted only 18 seconds. And yet, this did not prevent it from becoming historic.
The author of the video was jawed, aka Javed Karim, a co-founder of YouTube who was 25 years old at the time. The video was filmed with Karim's camera, and the cameraman was his friend Yakov Lapitsky, who even got his own page on the reputable IMDB film site for his work.
"Okay, now we are in front of the elephants. The coolest thing about them is that they have very, very, very long trunks. And that's... that's cool. And that's really all I can say," Karim said in the video.
"I don't want you to like me, subscribe to my channel or anything else. Everything is simple and honest, but at the same time historical. Just watch it for yourself:
A failed dating site
Interestingly, the idea for the video service originally came from Karim and two other YouTube co-founders, Steve Chen and Chad Hurley, when they decided to create a dating service that would publish videos instead of photo profiles. The guys even found volunteers who started recording videos for the site, and when it became clear that they were unable to collect videos from even a hundred girls, the idea of a dating site was transformed into a video service for everyone.
It's noteworthy that there were women involved in this one, too.
According to one version, the idea of YouTube as a video-sharing service arose from a spicy incident that took place during the Super Bowl final, when Justin Timberlake (accidentally or not) exposed Janet Jackson's breasts, with whom he was performing a song.
The thing is, for some reason, Karim missed the spicy moment during the live broadcast and later tried in vain to find a video of it online. So he had no choice but to create a website where everyone could upload their own videos. These are the guys...
By the way, Jawed, you can now watch this in FullHD.
The video contains 18+ content
The decision to create a video service for everyone was so successful that YouTube changed the way society receives information and became a phenomenon that was acquired by Google in October 2006 for $1.65 billion.
The video that changed EVERYTHING!
Although Karim's video is now considered historic, it didn't really have that much of an impact on YouTube when it was released. The service began to gather an audience only later, in July 2005, when a number of innovations were introduced on the site: comments and the ability to embed videos on third-party sites. As a result, by the end of 2005, the number of video views on Youtube reached 8 million per day.
As of the end of February 2023, Karim's video has over 258 million views, 13 million likes and over 11 million comments. Among them, and with gratitude from the San Diego Zoo.
"We are honoured that the first-ever YouTube video was filmed here!" the Zoo said in a comment.
The media call Me at the zoo the most important YouTube video of all time.
"It's representative of YouTube - it doesn't have to be a sophisticated production; it can be affordable. The first video on YouTube is something that anyone can create on their own," Business Insider noted.
The Los Angeles Times also emphasises the importance of this video, because "as the first video uploaded to YouTube, it played a key role in fundamentally changing the way people consume media and helped usher in the golden era of the 60-second video".
The New York Observer also called it the most important video in YouTube's history, stating that "it's practically a historical artefact."
Why the hell do I need a google+ account?
Interestingly, Karim himself is aware of how important his video is and doesn't hesitate to use it. Fortunately, for a good cause.
In November 2013, Google decided that its video service needed something new. Having come up with nothing better, the corporation decided to link video commenting to Google+ accounts. The users of the service disliked this so much that they wrote about it everywhere they could.
Karim did not stand aside and changed the video description to a new one.
"Why the hell do I need a google+ account to comment on videos?" - he wrote.
Later, he also criticised YouTube for the idea of removing dislikes under videos, calling it a "stupid idea".
Earlier, OBOZREVATEL told what the first TV set in the history of mankind looked like and who invented it.
Subscribe to OBOZREVATEL's Telegram and Viber channels to keep up with the latest news.